The Hans Christensen Sterling Silversmith's Award
2003 Award Winner: Heikki Seppä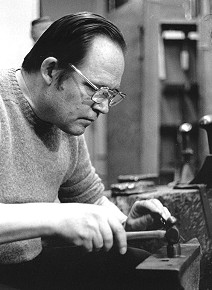 Seppä on Hans Christensen: I had been selected to study at Georg Jensen Silversmiths in Copenhagen, Denmark. 1948-1949 was the best period of the evolving silversmith since Pre-Industrial Revolution. Danish silver was at the forefront of that renaissance. Soon I felt that working with the masters and being in touch with the designers opened new vistas of creativity and product awareness.
"I was in the right place at the right time." Hans Christensen was one of the most versatile "middlemen" between workers, straw bosses, and the designers. At Georg Jensen, he moved from one work area to the next, checking progress, discussing work methods, and tools used. He knew everyone and often sat down to eat lunch with the workmen. His glass-walled design office shared was nestled in the workspace.
The six belly-hole bench-one of many – was manned by students: two Swiss, two Finns, and one Danish master. Hans stopped often to talk to the Danish master, but the rest of us only tried to understand what went on. Our stay—a little over a year—left me with a deep yearning to learn more. I had been "in the right place."
Twenty years later, after moving to North America, I met Hans again. This time he was a teacher at R.I.T. (Rochester Institute of Technology) in New York. Jack Prip, Axelrod, and Hans Christensen—all Danish masters—were teaching in America. It was the formative years of S.N.A.G. (Society of North American Goldsmiths) and its meetings where we met again.
Hans left his infectious love of the silversmithing profession. My current wife—Laurie Lyall—studied briefly with Hans. Her memory of those times is most glowing.
From SAS Artisan, Paulette Myers: Heikki Seppä, a member of the Society of American Silversmiths, has been selected as this year's recipient of the Hans Christensen Sterling Silversmiths Award given by the Society of American Silversmiths for outstanding achievement in the field of Silversmithing. An internationally celebrated metalsmith, Heikki has exhibited and lectured both nationally and internationally. Born in Finland, he attended the Central School of Industrial Arts and the Goldsmiths School of Helsinki where he created his first reticulated spring hinged cigarette case in silver at the age of fourteen. From there he went to Copenhagen, Denmark, where he continued his professional training with the George Jensen Silversmiths, renowned for their silver hollowware. In 1951, he immigrated to British Columbia, Canada, where he lived and worked for nine years. In 1961, he moved to the United States and studied at the Cranbrook Academy of Art in Bloomfield Hills, Michigan. After teaching at the Art Center School in Louisville, Kentucky, for four years, he was offered a position at Washington University, St. Louis, Missouri, where he taught from 1965 to 1992 when he retired as Professor Emeritus. He often spent his summers teaching at the Penland School and Haystack Mountain School of the Crafts where he was sought after by students and metalsmiths anxious to learn from such a master.
Heikki Seppä pioneered the technique of reticulation in the United States, and developed metal forming into a language of form types and methods. His jewelry, hollowware, sculpture, and ecclesiastical objects often combined silver with other metals for unique color blends. He also mated silver or gold reticulated surfaces with gemstones. Continuing the heritage of his training at Jensen, silver was the metal used in his most impressive works. He defined and popularized the shell form technique, developing his well known synclastic and anticlastic forms. His intention was twofold: to free metal artists from the traditional functional methods of metal design and to give them a new collection of forms and methods to explore. This interest in expanded form emphasis also led to a new vocabulary developed by Heikki. It is illustrated in his book, Form Emphasis for Metalsmiths, first published in 1978, a significant contribution to the field of metal. In 1996, he published his second book, covering much more on the subject of expanded form which he had developed from 1978 to 1996. This book, which is in the collection of the Library of Congress, Washington, DC, is written in his native language and is used as a required text for all metalsmithing schools in Finland.
In addition to these numerous accomplishments, he was one of the founders of the Society of North American Goldsmiths. He was active in the organization and hosted conferences for its board and membership in St. Louis. In 1987, the American Crafts Council proclaimed Heikki Seppä a national treasure and honored him with a fellowship in perpetuity, the highest honor the Council bestows upon a craftsman. Other awards include a 1992 Gold Metal for Meritorious Lifetime Achievement from the League of Finland Goldsmiths and an Excellence in the Arts Award from the Art and Education Council of St. Louis. Haystack Mountain School of the Crafts in Deer Isle, Maine, established the Heikki Seppä Scholarship in his honor. His work is in the collection of the Renwick Gallery of the Smithsonian in Washington, DC, the Museum of the Cranbrook Academy of Art, the St. Louis Art Museum, and many private collections. He has major metal works in St. Louis at the Shaare Emeth Jewish Temple, at St. Michael and St. George Episcopal Church, as well as a stainless steel sculpture on the campus of Washington University.
Heikki is now retired and living in the state of Washington. His students are a living testament of his gifts. Their accomplishments are significant as metalsmiths and teachers. He has spent his life as a pioneer and revolutionary, helping define the modernist aesthetic of metalsmithing, exploring the sculptural realm. Heikki's departure from the traditional has accomplished great things by opening up the world of form and spontaneous expression for metalsmiths. Considering these many outstanding contributions to the field, I'm pleased that the Society of American Silversmiths has selected Heikki Seppä as the recipient of the 2003 Hans Christensen Sterling Silversmith's Award.
From a former student, Cathy Wheless: It was with a very warm and proud heart that I went to the Web site to read about the Heikki Seppä award. In 1970 he did a workshop at Virginia Commonwealth University, he will surely not remember me but boy do I remember him. He is an extremely intellectual and gifted man and had so much to teach us but the thing that stands out in my mind was his unique humbleness and refreshing pragmatic approach to the students. I was a young novice student at the time and I remember working right along beside him in the metalsmithing studio and feeling so relaxed and confident because he made you feel so capable. With all of his great skill and accomplishment it was his passion and warmth that came across not his ego.
Thank you Heikki for giving so much care and respect to your students.
Heikki Seppä
Education

4 Years: Cranbrook Academy of Art
4 Years: Central School of Industrial Art of Finland
3 Years: Goldsmith School of Helsinki
Teaching Experience

1992: Retired Professor Emeritus
1962-1992: Professor of Fine Art (Metal Arts), Washington University, St. Louis, MO
1961-1965: Teacher, Art Center, Louisville, KY
1948-1949: Georg Jensen Silversmithy, Copenhagen, Denmark
1945-1948: Workman, Hopeatakomo Oy, Helsinki, Finland
Teaching Workshops
Haystack (14 times), Deer Isle, ME
Penland School of Crafts (9 times), Penland, NC
Numerous other workshops throughout career
Honors & Awards
1998: "Saint Elegius's Golden Staff," honor from Finland
1996: Art & Education Council Award, St. Louis, MO
1992: Gold Medal for Professional Loyalty, Finland
1987: American Craft Council Fellow
1975: Diploma for Meritorious Lifetime Work in Gold and Silver Profession from the League of Precious Metal Industry of Finland
1974: Principal developer of shell structures technique and its teaching vocabulary
1964: Master status from Ministry of Education of Finland
Published
2002: Archives of American Art, Smithsonian Institution, Washington, DC
1998: Author of "Hopea Sepän Pajasta," an illustrated book on silversmithing in Finish
1983: Life Story Audio Tape, Columbia University, New York, NY
1978: Author of "Form Emphasis for Metalsmiths," Kent State University Press, fourth printing: 1993
Notable Commissions
1988-1989: 14 pieces of ecclesiastical work for the Episcopalian Church of St. Michael & St. George, St. Louis, MO
1988-1989: Menorah, Sabbath candleholder & eternal light for the new Shaare Emmeth synagogue, St. Louis, MO
Memberships
1989-present: Juried Artisan, Society of American Silversmiths
1970-1982: Charter Member, Society of North American Goldsmiths