The Hans Christensen Sterling Silversmith's Award
2001 Award Winner: William N. Frederick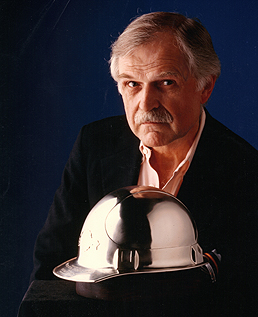 Frederick was chosen from nominations sent to this year's selection committee: Bernard Bernstein, SAS Artisan; Harold Schremmer, SAS Artisan & last year's Award winner; Munya Avigail Upin, SAS Artisan; and advisor: Jeffrey Herman, SAS Executive Director.
Harold Schremmer, the 2000 award winner and member of the 2001 selection committee: After three days of looking over the extensive collection of photos and other information in the SAS archives, I am content that a comprehensive search has been made comparing the work of many eligible silversmiths for the 2001 Hans Christensen Sterling Silversmithing Award.
William Frederick most admirably meets every criteria.
After hours of comparing one silversmith to another—and there are certainly at least six who deserved the very closest scrutiny—I finally concentrating on this smaller number of the truly gifted. I then waited another week and returned to the SAS archives twice to again review this selected group.
I was overwhelmed by the extraordinary number of consistently high quality pieces created over the years by Bill Frederick. He has been a self-employed silversmith doing creative, innovative pieces. I think Bill Frederick represents the best of what the SAS was originally founded to accomplish—to recognize and encourage those who have worked all their lives, initially without publicity, academic honors or fame, but rather persistently striving to develop and excel in their work.
As a returning veteran, Bill was at a loss as to what he could or should do. Choosing silversmithing as his livelihood, his years of engineering study would prove to be of tremendous importance.
Bill's design and problem solving mastery are even more astounding when you realize the extensive range and number of these unique pieces he has created. He has worked with a surprising variety of materials and techniques, each perfectly suited to the unique demands of the particular commission. Bill Frederick's creative efforts span from elaborate ecclesiastic silver, to tea sets, maces for universities, trophies, and candle holders just to name a few. Each of these challenges was accomplished with his own individual vitality and force of character.
Jeffrey Herman, SAS Executive Director and advisor to the 2001 selection committee: William Frederick may be one of the least known silversmiths in the country. He hasn't taught in 25 years, doesn't show his work in galleries or craft shows, and has a two-page resume. Bill is a professional silversmith.
He has been an Artisan member of SAS since its inception in 1989, and he continually impresses me with not only his work, but also his work ethic. Unlike many silversmiths who prefer to only produce their own designs, Bill also accepts many projects without question. If a customer comes to him with very specific needs, even blueprints of designs that are not quite his aesthetic, his pride won't stop him from producing that piece. He caters to his customers, and word spreads quickly. This is why Bill has always been busy, sometimes overwhelmed.
He is a designer and maker of utilitarian silver; objects that can actually be used and not just displayed in a glass case. His pieces are heavy and made to last for generations. Very few silversmiths invite the difficult task of making reproductions-it's simply another service to his customers. His work has always been in high demand by the church and collectors who appreciate not only his skill as a silversmith, but also Bill's reputation for getting their jobs out on time.
This is what has made this 79-year-old so successful in his 45 years as a silversmith. I have known William Frederick since 1989. We talk on a regular basis about the struggles of being a silversmith in the computer age and his backlog of commissions. SAS maintains 160 slides of his work in silver, a vary small number of his total output. No, his work won't be found in every major museum, or in major craft magazines, nor does he care. He has no ego and his unassuming demeanor has always impressed me. From ornate jewelry to the most technically difficult holloware, Bill continues to challenge himself He has created more objects than any silversmith I know, and he perseveres at a fever pitch, even at 79.
William Frederick is the epitome of a professional silversmith, someone aspiring students and other professionals could learn a great deal from. He truly deserves a lifetime achievement award.
Willian N. Frederick
Education

1959: MFA, School of the Art Institute of Chicago, IL
1958: Rochester Institute of Technology, NY
1953: BFA, School of the Art Institute of Chicago, IL
1946: BS, Massachusetts Institute of Technology, Cambridge
1942-1943: Harvard University, Cambridge, MA
1939-1941: BA Diploma, Gallagher School of Business, Kankakee, IL
Teaching
1977: Handforming silver demonstration during Chicago Metalsmiths Exhibition, Chicago Historical Society, IL
1976-1977: Metalsmithing Instructor, Columbia College, Chicago, IL
1974-1978: Lecturer in Fine Arts, Metalwork and Jewelry, Loyola University, Chicago, IL
1954-1960: Instructor of Mathematics, Physics, Metal Design, Product Design, and Metalsmithing, School of the Art Institute of Chicago, IL
Awards
1999: "Niche Award" finalist-Judaica catagory (hanukkah lamp)
1997-1998: "Visual Arts Awards," Modurn Liturgy Magazine (honorable mention-sterling hannukah lamp)
"Bene Award," Visual Arts Awards, Modern Liturgy Magazine ((sterling chalice)
1994: "Visual Arts Awards," Modern Liturgy Magazine (honorable mention-sterling chalice)
1993: "Visual Arts Awards," Modern Liturgy Magazine (honorable mention-sterling chalice)
1992: "Bene Award," Visual Arts Awards, Modern Liturgy Magazine (sterling book cover)
1990: "Visual Arts Awards," Modern Liturgy Magazine (honorable mention-sterling chalice)
1986: "Sacred Arts Eight," Billy Graham Center Museum, Wheaton, IL (honorable mention-sterling lectionary cover)
1985: "Sacred Arts Seven," Billy Graham Center Museum, Wheaton, IL (honorable mention-sterling chalice)
1974: "The Goldsmith Exhibition," Smithsonian Institution-Renwick Gallery, Minnesota Museum of Art (merit award)
1964: "Fr. Totte Memorial Award," Biennial Religious Art Exhibition, Detroit, MI
1960: "Annual Decorative Arts and Ceramics Exhibition," Wichita Art Association (silversmithing award)
1958: "Sterling Today," Competition, Sterling Silversmiths Guild of America Medal
Museum Exhibitions (juried & invitational)
1977: Chicago Historical Society, IL (one man show)
1975: West Texas Museum Association, Lubbock
1974: Minnesota Museum of Art, St. Paul
Smithsonian Institution, Renwick Gallery, Washington, DC
1964: Dallas Museum of Fine Arts, TX
1961: The Art Institute of Chicago, IL (one man show)
1960: Chicago Museum of Natural History, IL
American Craft Museum, New York, NY
Group Exhibitions (juried & invitational)
2000: "Magic & Ritual," Hannukkiahs Seen Through Contemporary Eyes," Nathan D. Rosen Museum Gallery, Boca Raton, FL
1999: "Magic & Ritual," Hannukkiahs Seen Through Contemporary Eyes," Steinbaum Krauss Gallery, New York, NY
"Artisans in Silver: Enduring Traditions Through the Next Millennium," an exhibition of the Society of American Silversmiths, National Ornamental Metal Museum, Memphis, TN
1997-1998: Artisans in Silver: Judaica Today, a traveling exhibition of the Society of American Silversmiths, National Ornamental Metal Museum, Memphis, TN; Hebrew Union College Skirball Museum, Cincinnati, OH; Yeshiva University Museum, New York, NY; Carnegie Museum of Art, Pittsburgh, PA; Minneapolis Institute of 	Arts, Minneapolis; Mitchell Museum, Mt. Vernon, IL
1995-1996: "British & American Contemporary Servers," Goldsmiths' Hall, Foster Lane, London, England; National Ornamental Metal Museum, Memphis, TN
1995: "Artisans in Silver: The Vase," a traveling exhibition of the Society of American Silversmiths, National Ornamental Metal Museum, Memphis, TN; Arkansas Arts Center Decorative Arts Museum, Little Rock, AR; The Newark Museum, NJ
"Images of the Holy," Baker Memorial Methodist Church, St. Charles, IL
"Contemporary Servers Collection," Worshipful Company of Goldsmiths, Goldsmiths Hall, London, England
1994: "Artisans In Silver 1994," a traveling exhibition of the Society of American Silversmiths, National Ornamental Metal Museum, Memphis, TN; Fuller Museum of Art, Brockton, MA; Muscarelle Museum of Art, Williamsburg, VA
1993: "Artisans In Silver 1993," a traveling exhibition of the Society of American Silversmiths, Georgia State University Art Gallery, Atlanta; National Ornamental Metal Museum, Memphis, TN; Pritam & Eames, East Hampton, NY
Tesoro Gallery, an exhibition of the Society of American Silversmiths, Los Angeles, CA
1992: "A Sterling Exhibition," a traveling exhibition of the Society of American Silversmiths, National Ornamental Metal Museum, Memphis, TN; Pritam & Eames, East Hampton, NY; Worcester Center for Crafts, MA
1990: "Reflections of the Past and Present: Contemporary American Silver," The Society of Arts & Crafts, Boston, MA, an exhibition of the Society of American Silversmiths
1989: "XI Biennial Exhibition," Liturgical Art Guild of Ohio, Columbus
1986: "Sacred Arts Eight," Billy Graham Museum, Wheaton, IL
1985: "Sacred Arts Seven," Billy Graham Museum, Wheaton, IL
Sacred Arts Exhibit, Northern Illinois Conference, Methodist Church, Northern Illinois University, DeKalb, IL
"Present Day Illinois Folk Arts," Springfield Art Association, IL
"IX Biennial Exhibition,"Liturgical Arts Guild of Ohio, Columbus
1984: "Form/Reform," Bismark Hotel, Chicago, IL
1983: "Illini Metal," Bradley University, Peoria, IL
1981: Religious & Liturgical Art, Liturgical Conference, Chicago, IL
1979: Calumet College, Whiting, IN
Loyola University, Chicago, IL (one-man show)
1977: Copper, Brass, & Bronze Exhibition, University of Arizona Museum of Art, Tucson
1970: Edward Sherbeyn Gallery, Chicago, IL (one-man show)
Clark Arts Center, Rockford College, Rockford, IL
1969: Sneed-Hillman Galleries, Rockford, IL
1966: Benjamin Galleries, Chicago, IL
1963: Mundelein College, Chicago, IL
1962,1972: Chicago Public Library, IL (one-man show)
1961: Loyola University, Chicago, IL, also '61, '74, '75, '76, '77
1960: American Federation of Arts Traveling Exhibition
1957: Valparaiso University, Valparaiso, IN (one-man show)
1956: Cardijn Center, Marquette University, Milwaukee, WI (one-man show)
1955: Christocentric Festival, University of IL, Champaign
Corporate Commissions
1994: President's Chain of Office, Loyola University, Chicago, IL
1984: The Great Mace, American College of Surgeons
1977: Quality Dealer Award, Time Magazine
1976: Coeur d'Or Award, Chicago Heart Association
1975: Norin Corporation Presentation Awards, First National Bank of Chicago
1973: The Vardon Cup, Club Professional Player of the Year Award, PGA/Victor Golf
1972: The John Courtney Murray Award, Catholic Theological Society of America

Articles & Publications
2001: "Basket, Basin, Plate, and Cup," Liturgy Training Publications, Chicago, IL
2000: Contemporary Silver," Seymour rabinovitch, Merrill Publishers Ltd, London, England
1992: Designing for the Table, Michael Wolk, PBC International, NY
1987: Arcadia Edizion, "Steel & Style," Patrizia Scarzella, Milan, Italy
1979: Fine Trades, Suzanne Seed, Follette
1977: Chicago Metalsmiths (1804-1970), Sharon Darling, Chicago Historical Society
Midwest Magazine, "Silver Streak," Robert H. Bradford, (Chicago Sun-Times)
1975: Chicago Tribune Magazine, "White Collar Dropout," Donald Kerwin
1964: Motive Magazine, "William Frederick, Liturgical Silversmith," Margaret Rigg
Memberships
Juried Artisan, Society of American Silversmiths