The Hans Christensen Sterling Silversmith's Award
2005 Award Winner: John A. Prip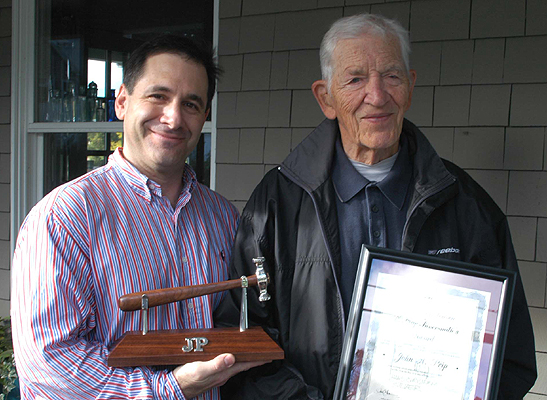 Tom Sandretto, originator of the Christensen Award, expressed his satisfaction in the selection of Mr. Prip as the 2005 honoree: "It's wonderful that Mr. Prip was selected! Mr. Prip's work in silversmithing helped to bridge the gap between the design and craft culture of Europe and the situation that existed in America. He had a singular relationship with Hans and of course, because they lived a parallel experience in Denmark and America through the 1940's and 50's. The selection group has performed a wonderful service to silversmithing in choosing to honor Mr. Prip."
Jeffrey Herman, SAS Executive Director: John (Jack) Axel Prip was chosen to receive this year's Christensen Award from the largest number of outstanding nominees to date. It's a shame there can only be one recipient per year with so much talent in the running.
His one-man show at the Rhode Island School of Design in 1987, gave me a new appreciation for his work. Each piece was crafted to the point of absolute perfection. I remember finding it difficult to stop staring at such beautiful objects, even trying to locate that elusive solder joint pinhole...it never appeared! The holloware and flatware were raised, forged, and fabricated to stand the test of time. Many of the pieces in the exhibit were technically complex, with finishes ranging from smoothly polished to heavily organic. Prip's command of every material he handled–whether silver, bronze, pewter, precious stones, bone, glass, or granite–was obvious. Most of the sculptural objects were so whimsical that the utilitarian holloware and flatware looked conceived by a different artist.
Prip's aesthetic and impeccable craftsmanship are a testament to his love of silver and any other material he touched. His technical prowess enabled him to produce anything he envisioned. I say this in the past tense. At 83, John's poor eyesight makes it impossible for him to work magic with metal. He has fond memories of his time in Denmark, his years teaching at RIT and RISD, and the artistic freedom he had at Reed and Barton. As Jack Prip spends his twilight years in the home he shares with his wife, Judy Skoogfors, I hope he realizes the tremendous impact he's had on his students and the field of silversmithing.
John A. Prip
Education
1937-1942: Apprenticeship with Master Silversmith Evald Nielsen. Completed required journeyman's piece, awarded silver medal/Hertz Award
Copenhagen Technical School, Diploma
Teaching/Lectures
1986: John E. McIntee, Jr. Memorial Lecture, Rochester Institute of Technology, NY
1978: Guest lecturer, School of the Museum of Fine Arts, Boston, MA
1977: Visiting Professor of Jewelry & Metalsmithing, School of the Museum of Fine Arts, Boston, MA
1975: Guest Lecturer, California College of Arts & Crafts, Oakland, CA
1973: Guest lecturer, School of the Museum of Fine Arts, Boston, MA
Guest lecturer, Rhode Island Society of Artists & Craftsmen
1972: Guest lecturer, School of the Museum of Fine Arts, Boston, MA
1971: Guest lecturer, California State College, Long Beach, CA
1970: Began undergraduate program, Rhode Island School of Design, Providence, RI
1969: Began graduate program, Rhode Island School of Design, Providence, RI
1963-1980: Rhode Island School of Design, Providence, RI
1963: Instructor, Department of Industrial Design, Rhode Island School of Design, Providence, RI
1962: Instructor, University of Southern California, Los Angeles
1960-1962: Part-time teaching, School of the Museum of Fine Arts, Boston, MA
1955: Guest lecturer, Detroit Guild of Metal Artists, Detroit, MI
1950: Coordinated Handy & Harman Workshops with Reginald Hill and Baron Fleming
1948-1954: Teacher/craftsman, Head of Jewelry & Silversmithing, School for American Craftsmen, Alfred University, and when it moved to Rochester Institute of Technology, NY


Professional
1984: Re-established studio in Rehoboth, MA
1957-1960: Appointed "Designer/Craftsman in Residence," Reed & Barton Silversmiths, Taunton, MA
1957: Continued production of individual pieces of holloware and jewelry for Shop One
1955-1957: Design consultant, Metal Arts Companyof holloware and jewelry for Shop One
1954-1956: Design consultant, Hickock Corporation
1954: Formed partnership with Ronald Hayes Pearson as independent designer/craftsman
1952-1953: Co-founded "Shop One," with Tage Frid, Ronald Hayes Pearson & Frans Wildenhain, Rochester, NY
1945-1948: Worked for several Danish and Swedish firms as designer/craftsman. Also worked for short period in family silver flatware business
Selected Exhibitions
1986: "Craft Today: Poetry of the Physical," American Craft Museum, New York (traveled)
1980: "For the Tabletop," American Craft Museum, New York, NY
1979: "Silver in American Life," Yale University Art Gallery (traveled through 1982)
1977: Philadelphia Museum of Art Invitational, PA
1975: "Forms in Metal-275 Years of Metalsmithing in America," Museum of Contemporary Crafts, New York, NY (travelled)
1974: "American Metalsmiths," Museum of Contemporary Crafts, New York, NY
1973: "'73 International Jewellery Arts Exhibition," Tokyo, Japan
1972: "John Prip/Metal," Museum of Contemporary Crafts, New York, NY
1971: "Holloware '71" Invitational, Fine Arts Gallery, State University of New York College at Brockport, Brockport, NY
"Schmuck-Objekte, Goldschmiede Finden Neue Formen," Museum Bellerive, Zurich, Switzerland
1970: "Goldsmith '70" Invitational, Minnesota Museum of Art, St. Paul, MN (traveled)
"Artsts Craftsmen '70" Invitational
1969: "Objects: U.S.A. The Johnson Collection of Contemporary Crafts (traveled through 1972)
1968: Tyler Invitational, Temple University, Philadelphia, PA
1965: "The New England Silversmith," Museum of Art, Rhose Island School of Design, Providence, RI
1964: "30 Americans," Museum of Contemporary Crafts, New York, NY
"The American Craftsman," Museum of Contemporary Crafts, New York, NY
"Craftsmanship Defined," Philadelphia Museum College of Art, PA
"Designed for Production: The Craftsman's Approach," Museum of Contemporary Crafts, New York, NY
1962: "A Craftsman's Role in Modern Industry: John Prip at Reed & Barton," Museum of Contemporary Crafts, New York, NY
1958: Museum of Contemporary Crafts, New York, NY
United States Pavilion, Brussels World's Fair, Belgium
1956: "Craftsmanship in a Changing World," Museum of Contemporary Crafts, New York, NY
Finger Lakes Annual, Rochester, NY (First Prize)
1955: Museum of Contemporary Crafts, New York, NY
1954: "American Designers," Museum of Modern Art, New York, NY
Finger Lakes Annual, Rochester, NY (D'Amanda Award)
1953: "Designer Craftsmen, U.S.A. 1953," Brooklyn Museum, NY (traveled)
1952: Finger Lakes Annual, Rochester, NY (First Prize)
5th Annual Arts & Crafts Competition and Graphic Arts Exhibition, Los Angeles, CA (First Prize)
1949: 4th Annual Decorative Arts and Ceramics Exhibition, Wichita Art Association, KS (First Prize)
Awards/Honors
1986: Awarded National Endowment for the Arts grant
1977: Elected Fellow of the American Crafts Council
1974: Juror: "Midwest Artist/Craftsman," Columbus Museum of Fine Art, Columbus, OH
1970: Juror: "Goldsmith '70" Invitational, Minnesota Museum of Art, St. Paul, MN (traveled)
1968-1977: Elected trustee, Performing & Visual Arts Society, New York, NY
1966: Juror: Artist/Craftsmen, U.S.A.," Wilmington, DE
1964: Featured Artist/Craftsman, New York World's Fair, Sponsored by American Educational Council
panel Participant, First World Congress of Craftsmen, Columbia University, New York, NY
1956: Lillian Fairchild Award for Creative Achievement, Memorial Art Gallery, Rochester, NY
Juror: "Midwest Designer/Craftsmen," Milwaukee, WI

Memberships
1971: Founding member, Society of North American Goldsmiths