Home Page • About Me • Before & After Images • Services Offered • Repair Issues • Resources
Frequently Asked Questions • Silver Care • Silver Glossary • Shop Views • The Library
Engraving Samples • Testimonials • Work Order.doc / .pdf • Contact

• Professional Silver Polishing •

If your flatware looks like the piece on the left, even after hand polishing, don't worry. I have been working with silver for 37 years and know how to bring even the most hopeless pieces back to life.
If you're planning a dinner party for family and friends, will your silver be gleaming by the time they arrive? Here are a few reasons to have your silver professionally polished:
1. You have no interest in polishing silver yourself;
2. You have no time in your busy schedule for silver polishing;
3. Your silver has corrosion which requires professional removal;
4. Your silver has been handled roughly and the only way to bring it back to its original beauty is to have it professionally finished.
5. I will custom polish your silver to the finish YOU want. Most services give you one option: a bright rouge finish. My preference is to keep your silver looking like an antique, not like it was made yesterday (unless that's what you request). I won't polish out detail and leave buffing compound on your piece. I use only the most gentle methods and degrease with Dr. Bronner's all-natural soap.

Note: Don't trust online videos demonstrating unusually quick results with devestating consequences using NevrDull, Tarn-X, toothpaste, baking soda, and dishwashers!
Basic polishing (like the spoon above) is only $7 per piece.
Re-applying the factory-applied patina is an additional $4. That patina is gradually removed if you constantly put your flatware in the dishwasher or expost it to Tarn-X.

If you supply at least 50 pieces of flatware with your chest, the chest will receive complimentary cleaning and exterior waxing plus new felt feet if required. All flatware is returned in acid-free tissue, ready to use without washing.
The pieces of this teaset were allowed to tarnish to the point where there was light etching on their surfaces. Hand polishing didn't remove the etching so I lightly machine-polished the sugar and creamer to bring back the original luster and to illustrate the contrast.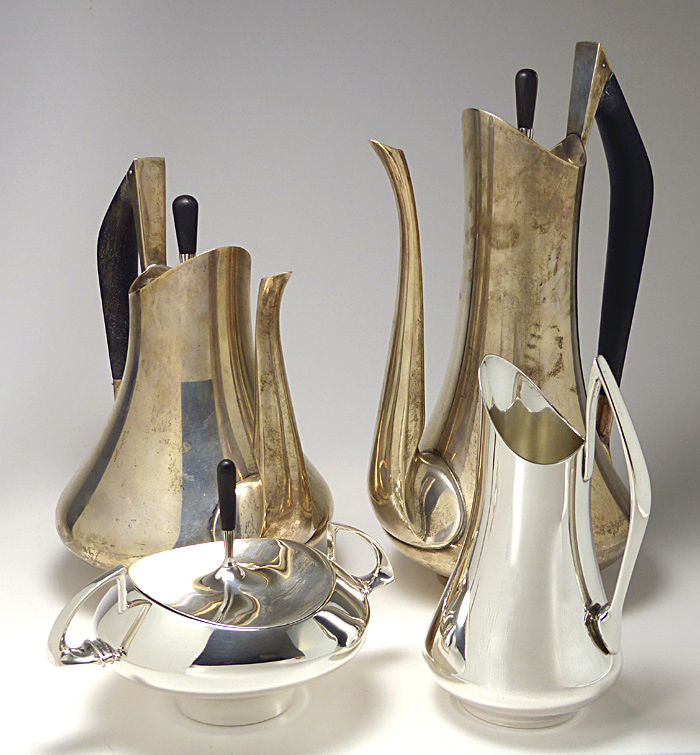 The teapot on the left (below) was probably left in Tarn-X which removed the original, factory-applied patina. I reapplied that patina to make the embossing "pop" the way it was intended to.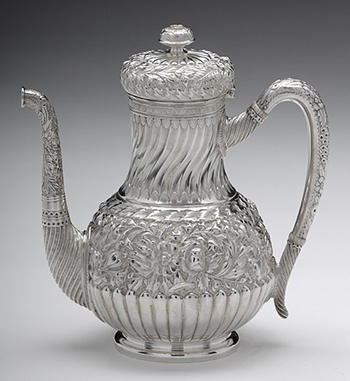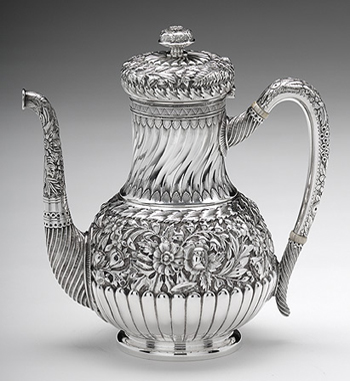 Professional polishing can bring back the original luster of even the most heavily tarnished silver.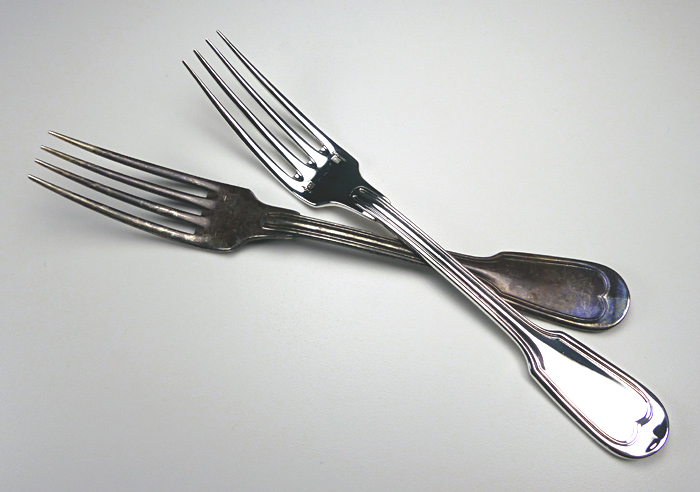 Below are flatware handles demonstrating the difference between a lightly polished surface and a refinshed one. Refinishing removes all nicks and scratches making the piece look new. NOTE: refinishing of pieces that are ornate (such as the teapot above) can dull extremely fine detail. My personal preference is to bring back the natural luster of an object without overpolishing. Should you have questions regarding the many finishes I offer, please contact me.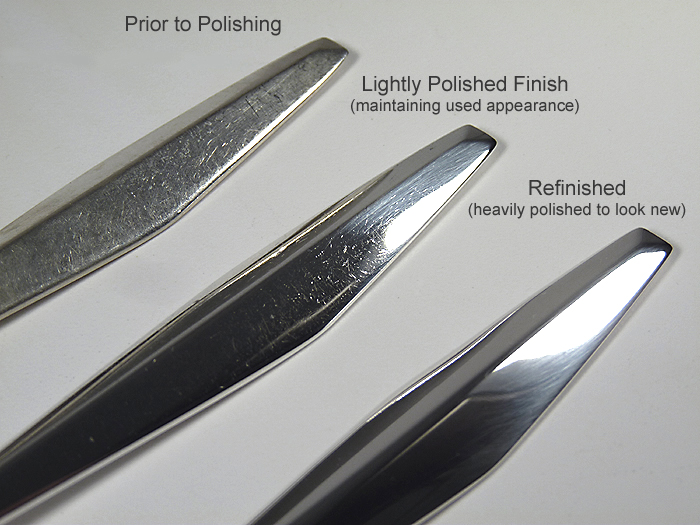 ---
Home Page • About Me • Before & After Images • Services Offered • Repair Issues • Resources
Frequently Asked Questions • Silver Care • Silver Glossary • Shop Views • The Library
Engraving Samples • Testimonials • Work Order.doc / .pdf • Contact