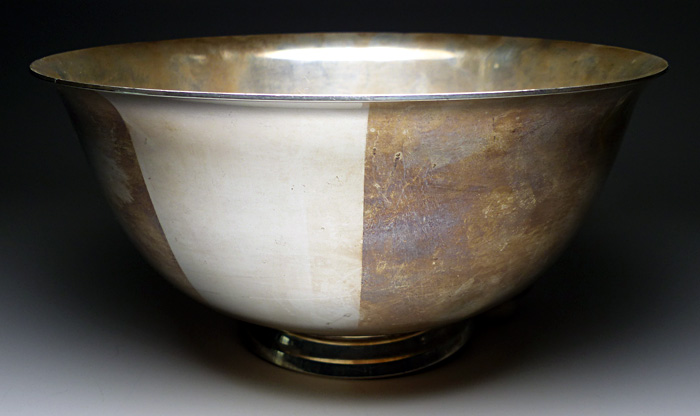 Above: The left side of this sterling Revere bowl was cleaned with aloe-free hand sanitizer.
Most of us are familiar with that light brown – and eventually black – tarnish that forms on silver. But you can sometimes remove tarnish in its very early stages by cleaning, not polishing. If tarnish has started to form you'll recognize it by holding a piece of white paper against the object. Try removing this light tarnish with either diluted citrus-free Dawn Dishwashing Liquid, Better Life Natural Glass Cleaner (made from 100% plant-derived ingredients), or aloe-free hand sanitizer. If the hand sanitizer leaves a residue, rinse it off with warm water or remove it with a moistened cotton towel, then dry immediately. If water doesn't work, use the Better Life. Try this technique first as opposed to polishing which involves an abrasive.
If tarnish remains, a silver polish will be required. (Please see my Silver Care Guide for help in choosing a polish.) How to Care for Gold Items
Solid gold objects may occasionally need grime and body oils removed. Objects that have tarnish are normally those where the gold has worn away, exposing the base metal. In both cases, use the same methods mentioned above for silver.
As always, feel free to contact me should you have any questions.
Below: All of these images are of the same spoon handle. The left image is in its original condition; the center image is the handle after being cleaned with hand sanitizer; and the right image is the final finish from using Earth Friendly Silver Polish (replaced with Herman's Simply Clean) as a final finish.