© Pauline Warg: Hanging Vase
The object pictured includes metalsmithing nomenclature found defined in the Glossary.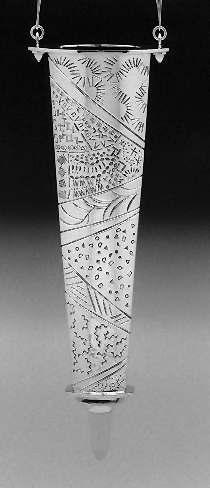 Pauline Warg's "Hanging Vase" © is 16" long (with chain); the vase body is 8" long x 2½" wide x 1½" deep. Pauline details the creative process: It was started in 1994 and completed in 1995, taking approximately 16 non-continuous hours to complete. The body of the vase was fabricated from two panels of 18-gauge (.040") sterling sheet which were chased, stamped, and formed; the chasing and stamping tools were also made by me. Chasing is the technique of detailing the front surface of a metal article with various hammer-struck punches. These panels were then hard silver soldered to two narrow side panels. The technique of file carving was used to create the wraparound effect of the chased lines on the narrow sides. The top of the vase, with a pierced opening, and the bottom, were sawed out of 14-gauge (.064") sheet and attached with medium silver solder.
The rose quartz bullet cabochon was set in a fine silver bezel which was soldered to a piece of 16-gauge (.050") sheet sterling. A piece of square sterling wire was filed to shape and soldered to the bezel backplate. This stone setting segment was then soldered to the body of the vase.
The chain was made from 20-gauge (.032") sterling round wire. It is a long-and- short style with a quarter twist. The attachments to the vase were fabricated from square stock filed to a pyramid shape, then soldered to small squares of 18-gauge sheet. These were then soldered to a strip of 16-gauge sheet with a file-carved detail and holes drilled to connect the chain. The protruding sides of the vase top were pierced in order to slide the connectors through from the underside; then I put on the chain and soldered the jump rings shut.
The final step, after all the buffing and polishing, was to set the stone. Photo: Andrew Edgar