© Marilyn da Silva: "Pear" Teapot
The object pictured includes metalsmithing nomenclature found defined in the Glossary.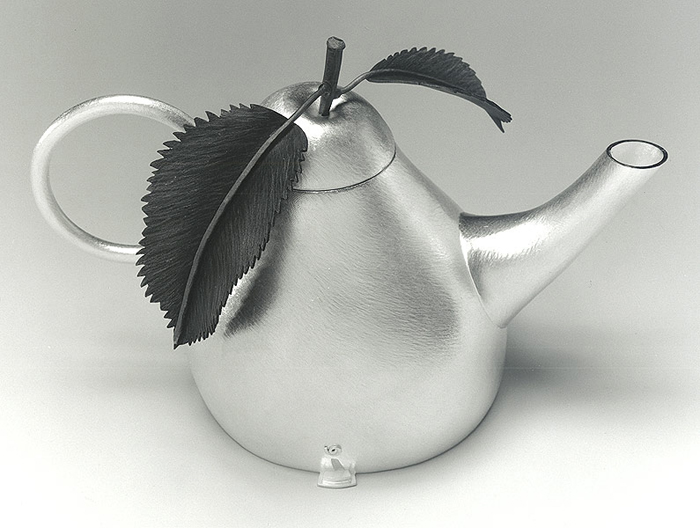 Made in 1996, Marilyn summarizes the process: The teapot was designed upon finding the perfect pear as a model. The form was made by hammering a 6" disk of 18-gauge (.040") sterling sheet over T-stakes and mushroom stakes. A general bowl form was developed before the actual pear form was defined using plastic and metal hammers over stakes, and sometimes air. The pear was formed upside down with the opening on the wide end.
After planishing the form to smooth the surface, the lid was sawed off. I formed the spout from one piece of metal and filed to fit the curve of the pear. It was then soldered to the form. The small "doorways" were fabricated, adding another dimension to the teapot as a dwelling. A sheet of sterling was then sawed to create the bottom of the teapot. The lid and top interior rims were finished by adding rings of sheet to each. The handle was made from a piece of 4-gauge (.204") round sterling wire. The final additions were the two copper leaves which were sawed, formed, and colored with gesso and colored pencils. The leaf unit is threaded through a hole in the lid and connected by a nut inside. The entire surface has a file finish. "Silver Pear" took approximately 25-30 hours to complete. Photo: Philip Cohen