© Linda Weiss: Mezuzah
The object pictured includes metalsmithing nomenclature found defined in the Glossary.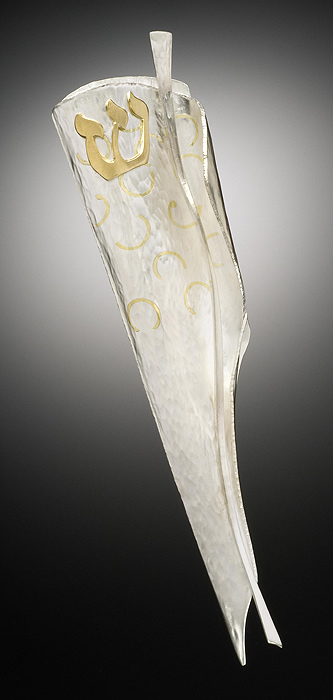 The following is a short narrative about the mezuzah. The materials are: sterling and 18k yellow gold. Techniques employed: Forming (with traditional silversmithing techniques and tools), forging, inlay, fusing, decorative hammered surface embellishment, fabrication and appliqué.
The piece is completely hand wrought and one-of-a-kind, and was made specifically for the Sanctuary door of the new home of reform Congregation Shomrei Torah in Santa Rosa.
When the head of the CST Art & Architecture Committee, Marlene Stein, commissioned the mezuzah for the sanctuary, she afforded me artistic license,
I chose to have the motif of the mezuzah come from the heart rather than a literal reproduction or representation of any specific item or theme - as is most commonly found in traditional mezuzah. I think that is particularly fitting for Congregation Shomrei Torah because although the congregation enthusiastically embraces tradition, they also embrace a very contemporary open minded universally inclusive philosophy. A significant portion of inspiration also came from my feelings for my faith, and honoring Rabbi George Gittleman, who is a remarkable human being and spiritual leader. The design was conceived as an abstract interpretation of the gestural movement in the new CST logo - an unfurling scroll/torah. The Hebrew letter shin is a "given" to mark the door post of a sanctuary, and is pierced from sheet 18k gold. The subtle inlaid 18 karat gold elements, and hammered texture are purely compositional and decorative. Photo: Hap Sakwa