Dorothy K. Gordon
Dorothy passed away at the age of 97 on Thursday, August 25, 2016. Additional information will be made available as it comes in.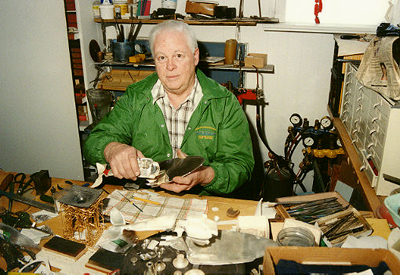 Harold Schremmer
West Warwick, RI
Born in Hartford, CT
May 15, 1928 - December 4, 2014
Jeffrey Herman, SAS Executive Director, 12/4/2014: It is a very sad day for the world of silversmithing. Harold Schremmer, arguably the most inventive and creative silversmith of his time, passed away at 10:12am EST at the Rhode Island Veterans Home. I was at his bedside. Information about Hal's life can be found here with additional commentary forthcoming.
Jeffrey Elsbecker, 12/5/2014: Hal Schremmer passed away yesterday, December 4. He had moved to the VA home in Bristol a few weeks earlier, as planned. Within a few days his throat blockage became much worse and he was moved to the hospital. Complications developed, he decided against extreme feeding measures and moved back to the VA home for palliative care.
Jeff Herman visited often and stayed with him for the final vigil, not sleeping at the last so he could be there at Hal's passing. Jeff said the hospice care at the VA was top notch.
Jeff first met Hal as his teacher at Maine College of Art. He was one of the few people who really got to know this intensely private man and was responsible for widening Hal's circle of friends. In his actions Jeff demonstrated love as much as any son could love a father, from cutting Hal's hair, visiting him, installing lights to advocating for Hal's art. Jeff is a real hero. I've had the privilege of knowing both of them and am better for it.
Hal did have some great stories. One of my favorites is the time in Spain, decades ago, when he accidentally got drunk (really; he wasn't a big drinker, it was hot and the wine was cool and strong), accidentally bought a horse and a sarape (he thought he was just renting it), accidentally jumped the horse into a prison yard (the horse was in charge of that) and got out, left the horse and went on to discover the rest of Europe.
It is fitting that in his final days Hal found out that one of his silver works had been acquired by the Victoria & Albert Museum. This is one of the highest honors a silversmith can receive. He was a highly innovative artist and relentless craftsman.
Hal lived life on his own terms for better and for worse. His son, Eric and former wife, Annette live in Germany. There will be a memorial service sometime after the first of the year.
All of you have become Hal's friend in some way over the years. He appreciated even the smallest kindnesses and would ask about you. I thought you would like to know.
May he know God's love and mercy.
SAS Artisan Michael Brophy 12/6/2014: He was truly brilliant. One of the best technical silversmiths and consciencious designers of the 20th century.
Jeffrey Herman, SAS Executive Director, 12/7/2014: "Forging a Relationship Through Silversmithing." Turn to page 15 of the Maine College of Art Magazine and read an interview about our 35-year relationship.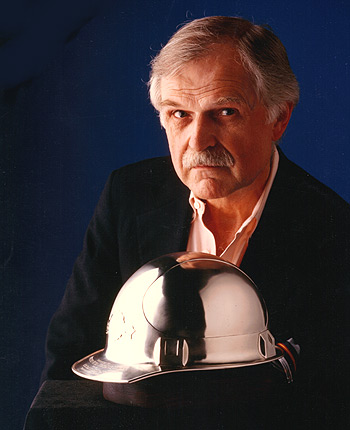 William N. Frederick
Chicago, IL
Born in Sycamore, IL
December 18, 1921 - May 11, 2012
Obituary pending
Jeffrey Herman, SAS Executive Director, 5/13/2012: I write this remembrance teary-eyed and heartbroken. I had been in touch with Bill more often than usual as I knew he was feeling unusually poor. He had been an extremely healthy man, even into his late 80s. I left four messages on his answering machine without a returned call. Knowing his dramatic change in health, I went online to check the local papers to see if he had died, but found no obituary. Then, on May 10th, I was sent an e-mail by Steve Brennan one of Bill's dearest friends...
"It is with shared deep sadness that I know you will feel upon reading this news. I am sitting at Bill's bedside at Illinois Masonic Hospital where he has been receiving palliative care since last Thursday. Know that he is comfortable, without pain, and having no anxiety. Today his responses are minimal and he has not been able to speak the past few days. It was his housekeeper Virginia sitting with me, who triggered our collective memory of how fond Bill was of you and that you would want to know about is eminent passing."
I understood immediately that Bill's life would be ending - soon. I turned my computer on early the following morning to see if there was any new news on Bill's health. Steve wrote at 11:45 p.m. that Bill passed away. I remember a sudden sinking of my heart as I sat with my head in my hands, staring at monitor. One of the finest human beings I had even known was gone.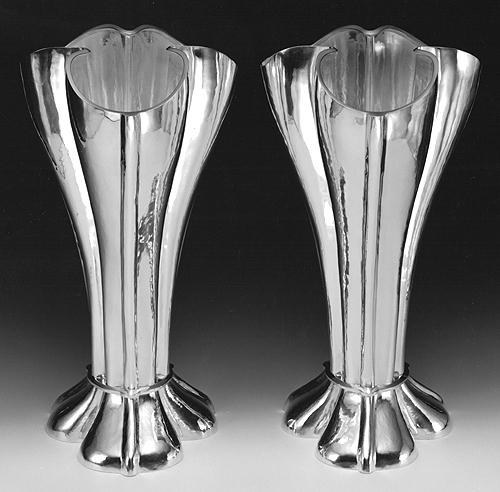 Bill was a silversmith's silversmith. He was a designer and maker of utilitarian silver; objects that can actually be used and not just displayed in a glass case. His pieces are heavy and made to last for generations. Very few silversmiths invite the difficult task of making reproductions–it was simply another service to his customers. His work was always in high demand by the church and collectors who appreciates not only his skill as a silversmith, but also Bill's reputation for getting their jobs out on time. Unlike many silversmiths who prefer to only produce their own designs, Bill also accepted many projects without question. If a customer came to him with very specific needs, even blueprints of designs that were not quite his aesthetic, his pride didn't stop him from producing that piece. And he was always eager to take on technically-challenging projects. This is why Bill was always busy, sometimes overwhelmed, even into his late 80s. He worked long, hard hours. And these factors contributed to Bill's success. I had enormous respect for his work ethic.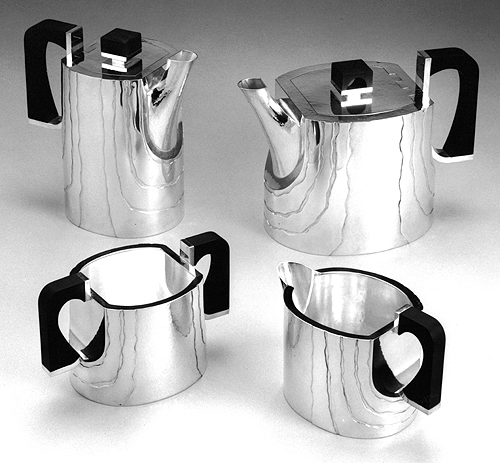 What always troubled me was that Bill's shop rate was one of the lowest of all Artisans in the Society, even with all his years of experience. It was a given that he was the finest silversmith in the metro-Chicago area for over five decades, but he was much too modest in his self-worth. I can't recount the number of our conversations ending: "have you upped your hourly rate yet?" "Weeeeeeel, not really," he would say in a somewhat embarrassed tone. "You know what you're worth, right Bill?" "I do, and I'll try to up my rate on the next job," he'd say. This conversation cropped up constantly for the entire time I knew this creature of habit.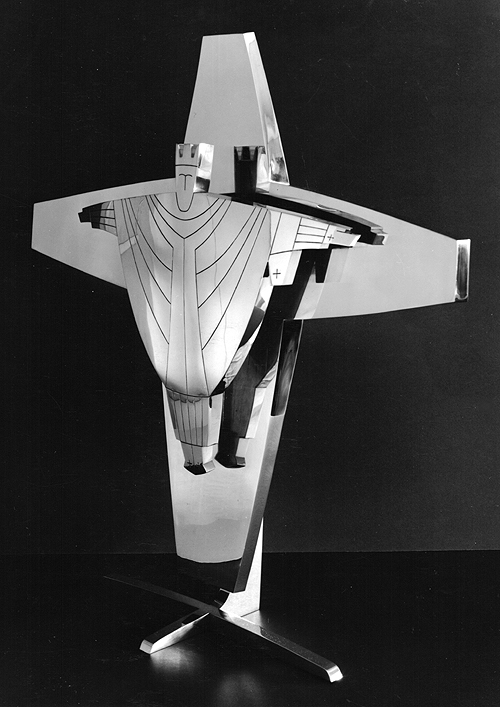 What made our relationship truly special were our chats about the complexities of life, the struggles of being a silversmith, and our concerns with diminishing human kindness. We made each other laugh. Bill would tell the same joke numerous times. "I have a joke for you," he'd say. Five or six words into the joke I knew I had heard it three times before, but chuckled anyway. Whenever I had a concern, he would always exclaim "everything will work itself out" in a calming yet confident voice.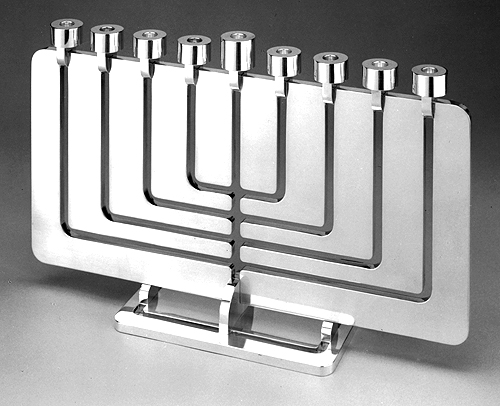 William Frederick was an elegant man with an amazingly rich life which included Ralph Arnold, his artist partner for 50 years. He was peach of a human being with a magnetic personality and skills to be envied by all silversmiths.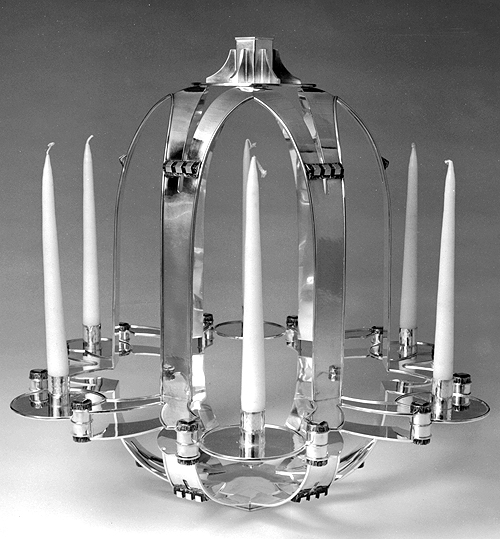 Bill was the 2001 winner of The Hans Christensen Sterling Silversmith's Award.
SAS Artisan Robert Butler, 5/14/2012: Bill and Ralph were such a great couple both as a couple and as individuals. I never got to spend enough time with them but am so glad that I did make it to the shop/house. It was a magical situation in this modern fast paced world, to work and live in an urban center much like a silversmith would have in the 18th c. Bills tools were beautiful and what he made with them were always perfect - well designed, thought-out and stylish.
I will miss not being able to drop in on a visit to Chicago but will cherish the memories. Rest in peace Bill.
Steve Brennan, 5/14/2012: Wonder is a strange thing. It's often starts when I am presented with something, a work of art, a written phrase, a profound memory. It happens when a vague "something" causes me to pause. Wonder starts right after I try to name it as a "recognized" thing. Wonder starts when all the filters I use to name it or recognize it are deficient. It begins when my categories are not good enough to neutralize the magnetic draw that causes me to sit a little longer, become a little more silent and wait for something to be revealed, or not.
Your work often caused me to be drawn into wonder. It made me pause and be still. It was joyous to experience a moment of unknowing and letting the "thing" reveal itself, often found in the elegance of function that you created.
You gave me a life time of profound memories that continuously lead me to experience wonder; all from simple moments of grace that were provided on many evenings as I spent time with you and Ralph. I sit in silent awe of those moments, which were ultimately about love and vigilant caring between the two of you.
Your life demonstrated unfaltering dedication to your craft, and revealed it's the observant pursuit of values that matters.
Your life exemplifies unalterable care, love and dedication. You showed me the glue between people and how synergy between them is the result of the same decision repeatedly chosen even when the results were not immediately evident; how it is created, nurtured and maintained.
You quietly taught that the choice to belong with another is confirmed in the everyday. It was revealed between you and Ralph and how the synergy of who you were together was greater than the separate men you were. In the well-ordered household of daily activities, you guys were fluid and moved seamlessly with each other. Every night was crafted from a commotion of common ingredients, into an exquisite meal and the kitchen brought back to order, with the evening ending with "just an hour or two more" in the studio.
This was a nightly well-oiled routine that I had witnessed and noted numerous times. You showed me that is what makes the mundane sacred.
You have given me a window to know how it is at all possible, and even plausible, to find the mystery of beauty, and the mystery of another. You encourage all of us to draw closer to wonder and sit before it, letting its mystery be revealed, or not.
I remember with love all you have given and how great a blessing you were to me and how great my debt is to pass those blessings on to others.
Know this: I will wonder on you all of my days,
Love,
Steve
Below is an article on Frederick, written by Polly Ullrich, reprinted courtesy of Metalsmith magazine, Spring issue 2005
Daniel Pederson's planishing hammer came into the possession of William Frederick in a way that still provokes emotion. Pederson, a master Norwegian silversmith renowned for his shy but courtly manners and deft hammer marks, was co-owner of the venerable Kalo Shop, one of Chicago's earliest and most prominent Arts and Crafts metalworking enterprises. Pederson died in 1970, the same year the hugely successful shop closed, after selling its handmade silver objects to three generations of Chicagoans. At its height, the shop employed 25 silversmiths and opened an outlet in New York City.
Later, Frederick, himself a Chicago silversmith, visited Robert Bower, the shop's former business manager. Bower pulled out an old box and opened it to reveal 32 carefully wrapped hammers for raising and planishing silver holloware, forged and fashioned by Daniel Pederson himself. "I know you can't buy a hammer like this anymore," Bower told Frederick, who had been Pederson's student at the School of the Art Institute of Chicago. Then he wrapped them back up. "Placing the box on the floor, he closed it, and he leaned down and kissed the box," recalls Frederick, who had offered to buy them. "It brings tears to my eyes, thinking about that. He was letting go of those hammers."
Bower was actually saying good-bye to a pivotal era in Chicago art history, when the city became a focus of Arts and Crafts activity and led a renaissance in metalsmithing. Well-known Chicago silversmiths - people such as Clara Barck Welles, who founded Kalo, Robert Jarvie, and others - set up shop during the Arts and Crafts period but inspired a community of metal artists that existed well through Modernism and into the last half of the twentieth century. William Frederick is an heir to that tradition, and at age 83, he is old enough to remember and tell stories about the best of these artists. A craftsman/raconteur with a mischievous wit, he has filled commissions for silver objects in his one-person North Side Chicago workshop for the last 50 years.
Despite his age, Frederick is still operating at full professional tilt, pushing as hard as he can into demanding projects. Although he complains at times about arthritis, his hands are strong and his eyes sure. He epitomizes a life lived in the American crafts that emerged after World War II - he went to college as a returning veteran and then supported himself fully with studio work during his long career. Frederick has shunned university teaching ("I'm much too soft to be a teacher," he says), although he holds a degree in industrial design from the Massachusetts Institute of Technology and a BFA and MFA from the School of the Art Institute of Chicago. He has met movie stars, politicians, and even a Catholic cardinal because of his commissions. He has exhibited his work periodically in national exhibitions. And in 2001, the Society of American Silversmiths awarded him its Hans Christensen Sterling Silversmith Lifetime Achievement Award.
"Bill Frederick is the epitome of a fantastic silversmith," says Jeffrey Herman, the executive director of the Society of American Silversmiths. "He creates solid, heavy gauge work that is meant to be used, and even somewhat abused, that takes on character and is comfortable in its function." Herman estimates that there are perhaps only 50 to 75 professional non-academic silversmiths in the United States who make a livelihood solely by specializing in functional holloware and flatware. Most young metalsmiths concentrate on jewelry because it is more lucrative, and public taste has veered away from silver for use in the home.
As a young silversmith, Frederick tried to get hired at the Kalo Shop, but Daniel Pederson turned him down, saying that he would be paid only one dollar a day. "I would have taken it," Frederick admits. His studio is now filled with approximately 500 handmade polished steel tools acquired from historic metal workshops in Chicago - not just Pederson's hammers but the whole tool collection from the Kalo Shop and its stumps (which were rescued just before they went to a junkyard), tools from the well-known Art Metal Studios, from the Lebolt and Company shop, and tools once owned by the idiosyncratic and immensely talented Chicagoan Renard A. Koehnemann, among others.
These tools are themselves small sculptures - heads, horses, irons, and stakes, forged and ground by the silversmiths themselves into liquid shapes, their surfaces butter smooth from decades of repeated use, the ash or maple handles of the hammers comfortable and balanced in the hand, with a small dent where the thumb nestles. They are what Frederick uses on a daily basis. The Chicago decorative arts historian Sharon Darling once affectionately referred to Frederick as "Son of Kalo." And indeed, the pieces that he produces from these tools have the Kalo spirit, if not exactly the Kalo look, resonating with Kalo's solidity, warmth, and a sweetness of line, but tempered by Frederick's own penchant for a reductive, Modernist simplicity.
It is Frederick's planishing hammer marks, applied at the very end of the hand-forming process for holloware and then left to dapple the surface of his finished pieces, which most pointedly extend his work from the Kalo tradition. It was these marks that Hans Christensen, the charismatic Danish metalsmithing teacher at the School for American Craftsmen in Rochester, New York, discouraged when Frederick enrolled in a summer program there in the 1950s (Christensen preferred a shinier, purer surface). But Frederick remembered how experienced silversmiths from Chicago never looked at the stamp at the bottom of a handmade silver object - they knew who formed it simply by identifying the planishing marks. So when Frederick went home to Chicago - he was born in nearby Sycamore, Illinois - he began leaving the hammer marks on his work again, as a reference to the humanism inherent in objects made by the hand, and as a sign of individual identity.
The aesthetic of Frederick's work is profoundly animated by his grounding in practical limits and ethical responsibilities. Before he found his calling as a metalsmith, Frederick as a very young man earned a reputation as a "pure designer" in an industrial design firm - rather than spewing out a wide selection of potential, optional designs for a new product, Frederick would concentrate his ideas into one single design that he could passionately argue was right.
The influence of this design training has informed all of his silversmithing work: serendipity has substantially formed his career in the crafts. Frederick has never turned down a commission - he calls it "taking the work as it comes" - and he affirms the aesthetic significance of limits imposed by the financial and functional needs of his clients. Oddly, this spurs him to greater inventiveness: "When I design, I never think how I am going to make something," he says. "I just assume it can be done. And when the design gets finalized, then I get serious and plan how I am going to do it." Recently, however, he happily received "a blue sky job": an attorney commissioned a silver object, without financial or design limitations of any kind. Frederick immediately set to work on a design for a sterling silver pierced vase with floating bezels for stones.
'Taking the work as it comes" has resulted in an extraordinarily varied body of functional silver work and now, at Frederick's age and level of experience, there is practically nothing that he cannot make in silver. Silver objects have historically been intertwined with ritual, and Frederick has produced numerous objects within that category - including liturgical vessels (more than 400 commissions for religious chalices), commemorative trophies for corporations, reproductions of historical silver objects for individuals and associations, and the heavy, engraved chains worn by university presidents during ceremonies.
Each object has a story behind it, which Frederick is willing to recount. Like the one about an eighteenth-century elaborately repouséed montieth, a huge punch bowl, which he reproduced in Britannica standard silver for an American descendant of an aristocratic Irish family after the original was lost during hard times. Or the sterling silver chandelier in the style of the Arts and Crafts architects Greene and Greene, which the owner transported from Pasadena, California, to Lake Tahoe, Nevada - and built a new dining room to accommodate. Or the heavy, domed turquoise and gold ring commissioned by Marquette University for the Dalai Lama - before they knew that he never wore jewelry. Or the chalice commissioned by a seminarian who ran off to Las Vegas to become a dancer.
Frederick has made hundreds of wedding rings, at least three dozen of which were lost when their owners went swimming. 'There are several in Lake Michigan," he says. 'There's one in the plumbing of Mexico City and there's one off the coast of Hawaii.
I know this because people come in and ask me to remake the ring - it must be important to them." Recently, Frederick was standing on the curb in front of his studio during the 2004 Chicago Marathon. Thousands of runners streamed by in the street. Suddenly a marathoner broke from the ranks, swerved toward him, and held up his left ring finger. "Remember me?" the guy said as he sped away. "You made my wedding ring."
"He looked vaguely familiar," says Frederick.
These stories underscore the sense of life and universal human experience resonant in Frederick's silver objects. Frederick's work could be described as an aesthetic of humanism - an aesthetics that is bound up with technique (how the work is made) and ethics (the moral values that went into its creation). The malleable characteristics of sterling silver allow it to be worked almost indefinitely in a circular process of repeatedly raising and annealing until the correct shape is achieved by continuously measuring it against a template made during the design process. The piece is then planished and, finally, polished. This careful process takes an enormous amount of time, and allows for the play of numerous judgments of quality and of conscience during the stages of forming.
When William Frederick raises or planishes a piece of silver, he is continuing a lifelong struggle for perfection that, ironically, he hopes will ultimately fail. He is, however, engaging in what the art writer Glenn Gordon has called "a theological rage for quality." "I'm not a machine," Frederick said one day, as he layered tiny hammer marks into the surface of a chalice with one of Pederson's hammers. "Machine-made things are cold, hard, and perfect. My work is not perfect, and that gives it a character or a human quality. But I'm striving for perfection, and that's the driving force, the challenge of trying to make it perfect. For 50 years, I've been struggling for that. And I've probably never succeeded, really. But when you're finished with the hammering, the piece has got to match the template, if you're really controlling it. It's easy to say at that point, 'Well, it's a little too big, but let's let that go. Who's going to know?' That's when your ethics get involved in this process." Frederick has deliberately proposed commissions for clients that required the production of two identical objects in order to test whether he could make an object that exactly corresponds to another one.
Frederick works at a stump cut from an old tree trunk that came from his family's farm in Sycamore. To watch Frederick raise or planish a chalice on an iron at this stump is to watch an intricate dance: his hand holding the hammer strikes the surface of the vessel positioned on the iron with assurance and control, while the other hand continuously rotates and lifts the silver object away, then repositions it exactly on the part of the iron that will bring out the form best during the next blow. Frederick calls this "hammering blind" - since the iron is hidden under the chalice, the right place to hit can only be sensed kinesthetically and by recognizing the sound of the hammer blows.
"Knowing where you are" on the iron, then, becomes a larger metaphor for an existential state achieved through the efficient and fluid techniques of the most rigorous of silver artists. The correct sound produced by a raising hammer is loud, deep, muscular, and hard as it bends the silver into a form. A planishing hammer, however, has a high, solid, clear ring when it hits the correct part of the iron. A metalsmithing workshop can be noisy from hammer sounds, but Frederick has said that when he is enmeshed within the multiple and continuous actions required by his work at the stump, he hears only the distinct quality of the hammer sounds, never the noise.
In this way of working, technique becomes an integral part of meaning. When Frederick preserves his planishing hammer marks, rather than filing them off into the sheer sweep of a mirrored surface, he builds singularly human characteristics into the work and signifies an aesthetic based on the qualities of intimacy, accessibility, and sensory experience. Frederick aims for what he calls a "fresh" surface, acquired by rapid, even, side-byside hammer marks that open out and bloom like brush strokes as the tool moves along the shimmering edge of the vessel. The marks must be placed exactly right, so that they do not need to be corrected, or muddied, by much polishing. The final object stands as a visual and haptic record of the gesture of those marks.
Frederick's work, while impeccable, stands for more than a perfect workmanship. Embedded in his objects are the personal qualities required to gain command of his field: longevity, perseverance, and the slow accretion of mastery. Despite the influence of Daniel Pederson, Frederick has traversed the trajectory of his long career primarily alone. "What I learned in the studio, I learned basically by myself," he says. "If you're working alone, you learn to make decisions yourself, and often you go the wrong way. And you never forget that. It's a learning process. In a sense, that's what life should bean unfolding."
5/15/2012, Published in Chicago Sun-Times:Frederick, William Nicholas Age 90, of Chicago, who was one of a very small number of America's most distinguished metal smiths, died at 11:50 p.m. Friday, May 11, 2012 in Advocate Illinois Masonic Medical Center, Chicago. Born Dec. 18, 1921, in the farming community of Sycamore where he attended the classic "one-room schoolhouse". Enlisting in the Armed Forces in 1942, he as he put it, "fought the Battle of the Charles River Basin" when stationed in Boston as an Ensign. Being in the Navy allowed him to attend Harvard University and the Massachusetts Institute of Technology where he received his Aeronautical Engineering degree. This background undoubtedly is responsible for the inventive structural form in some of his designs. When he was separated from the Navy in 1946, Bill pursued his BFA and MFA degrees in Art from The School of Art Institute of Chicago, where he subsequently taught for six years. He was a member of the Arts Club of Chicago Among many diverse projects, liturgical and otherwise, some 400 or more chalices are singularly creative as he never repeated a design. Consistent and distinctive in his designs is the use of the hammered surface. This surface is unique to each craftsman. Bill preferred the textured instead of the smooth, polished surface; it appeared in most of his works. His long career was sustained by word of mouth, reception of many awards and articles in trade publications. Notable was the support afforded by his life partner of more than fifty years, the noted artist Ralph Arnold, who preceded him in death. Bill's creative importance is recognized by many clients, collectors, colleagues, and friends. His work is in several museums including the Art Institute of Chicago. A private burial service will be held at Mount Carmel Cemetery in Sycamore. A memorial service will be held in the near future. A memorial fund has been established for The Paul's Foundation, 3260 N. Lake Shore Drive, Suite 12A, Chicago, IL 60657. Arrangements were completed by Olson Funeral & Cremation Services, Ltd., Quiram Sycamore Chapel. Information or to leave a message of condolence visit www.olsonfh.com<http://www.olsonfh.com or 815-895-6589.
Kevin O'Dwyer, 5/11/2013: In memory of Bill on the anniversary of his death on May 11, 2012 at age 90. Bill always talked about those "significant others " who made a difference in his life. Bill was one of those "significant others" in my life who made a huge impact by opening the door to his studio and sharing his knowledge, tools, an always listening ear and his good spirits with me. He supported my dream of a career in metalsmithing even though he was dealing with some pretty raw material when I arrived into the studio! On my first day - armed with notebook, drawing materials and immense enthusiasm he sat me down and said: "I hope you don't think you are going to make a fortune working as a metalsmith! Half of your payment will be the look in the eyes of the people you present your finished pieces to." He was so right - about not making a fortune and the pleasure of presenting a hand wrought piece of silverware to a client. And I still pull out that note book to jog my memory on a metalsmithing technique! And I also wish I had taken better notes! Bill was always a realist! I can remember one afternoon when I was planishing a bowl and he was working at the bench. He looked up from his magnifying glasses and said: "You know we are dinosaurs soon to be extinct!" After I spent so many years in a studio by myself - I also realise how hard it must have been for Bill to allow someone into his space to make noise - both with hammers and mouth. There were times when he was my only sounding board as I struggled with ~ "life" as a "twenty something" who decided to change careers. I was so naïve but Bill never caste judgement and he was always encouraging. It's only years later that I actually realised how generous he was. He must have been exhausted after a day of listening to me! I - on the other hand - was completely energised when I left the studio! Bill was not only supportive of my dreams but of my wife - Adele - who was a recent music performance graduate from Northwestern University when I entered Bill's studio. When Adele's quartet was invited to play at the Art Institute lunchtime series - Bill and Ralph were in the front seats! Anytime they were not using their Opera or symphony tickets we were recipients of a night out. When Adele and I left Chicago - close to 30 years ago - it never changed my relationship with Bill. He was always my mentor - always a phone call away. But now he would become one of our family as we shared the joys (and tribulations) of bringing up a family with him. I was lucky to have had many occasions to visit Chicago over the years and walking into Bill's studio was like coming home! That feeling that you have where everything is familiar and comfortable. And I was always excited to see what Bill was making. It was always pretty spectacular. And Bill was always supportive of my work - I'm sure he was often surprised that the raw talent that arrived into his studio - a fellow dinosaur - was still determined to keep the craft going. Polly Ullrich's interview and article for Metalsmith magazine entitled "Taking the work as it comes" captured Bill in the studio and a life's philosophy. A quote that always brings a smile to my face was one that I had heard often during the learning process. I'd like to share it with you: "If you're working alone, you learn to make decisions yourself, and often you go the wrong way. And you never forget that. It's a learning process. In a sense, that's what life should be - an unfolding." When I left his studio he told I was ready to go out and make my own mistakes! I always looked forward to calling Bill for a chat, catch up the news and hear him laugh when he told a joke. He had those wonderful eyes that lit up his face when he laughed. I miss those chats now but his memory is in my workshop everyday when I pick up a hammer and begin the creative process that was so familiar to the both of us. I share in the loss of Bill with all of you. He was a special person with an incredible talent that went far beyond his art form - a wonderful human being who was loved dearly by anyone who had the pleasure of being in his company. May he rest in peace.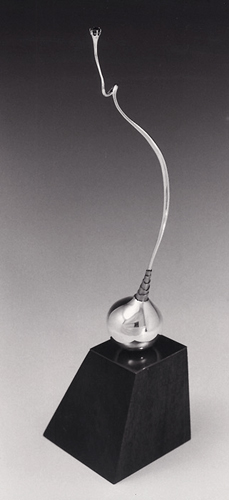 John Fix
Sparks, MD
Born in Mayfield, KY
December 6, 1941 - July 21, 2011
Karl L. Kirkman, 11/16/2011: I am not a silversmith, but about ten years ago, I had the notion to build a silver plateau; I drew plans, and started to fabricate components. When I was unable to find a local silversmith to do the assembly work, I contacted John, and arranged for some private instruction in preparing parts and soldering. The lessons were delayed due to his health, and when I finally did meet with him, I was concerned about his health as he was onh oxygen. As a result of his instruction and especially his encouragement that I could succeed, I was inspired to complete the plateau myself , and I wanted very badly to be able to share with John my appreciation for his help and patience. I am sorry that this is the means to share my appreciation; but thank you John - you were a great teacher and help to me.
A memorial for John will be held on August 27th at 10 am at the Broadmead,13801 York Rd., Cockeysville, MD 21030, just North of Shawan Rd. in the main auditorium. John became an Artisan member in 1992. Our deepest regrets go out to his family.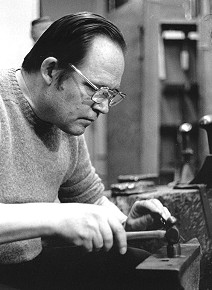 Heikki Seppä
Bainbridge Island, WA
Born in Säkkijärvi, Finland
March 8, 1927 - May 18, 2010
Jeffrey Herman, SAS Executive Director, 5/20/2010: Heikki passed away at his home in Bainbridge after a long illness. Funeral arrangements are pending through Cook Family Funeral Home. As Heikki's passing was on the 18th, additional information will be posted shortly. Our deepest condolences go out to his family. The world of silversmithing has lost a fantastic innovator and teacher.
Condolences can be sent to Heikki's widow Laurie A. Lyall, 6705 NE Baker Hill Rd., Bainbridge Island, WA 98110-2037, happycat9@live.com
Séamus Gill, 5/21/2010: I never met Heikki, probably the greatest innovator in the field of silversmithing in the 20th century. But the art of silversmithing owes him so much, through the influence of his work and what he discovered and shared with us through his writings. As with most silversmiths practicing today, his teachings have been a huge influence on me.
Kevin O'Dwyer, 5/21/2010: With sincere sympathy and condolences to Laurie, family and friends. Heikki was truly an inspirational tutor, colleague and friend. One of those "significant persons" in one's life who certainly enriched mine. A passionate educator who has touched the hearts and minds of metalsmiths worldwide. Ar dheis Dé go raibh a anam.
Genevieve Flynn, 5/21/2010: I first met Heikki in Wichita. At the time I was soooooo intimidated but the next time I met him was at a workshop at Penland. I was blessed with his energy, wisdom, his wonderful laugh and of course his instruction. Little did I know that a few years later he would wed one of my best friends that I have ever had, Laurie Lyall. We shared some great memories and laughs while visiting Heikki and Laurie. I will never forget the complement that was given to me while visiting about my repousse work. Heikki was an extrordinary person and giving instructor. I will miss him and I know that the metals world will not forgot him.
Brian Clarke, 5/22/2010: I was very sad to hear of the passing of Heikki Seppä. I only met him once socially at a SNAG Conference, but his insight and innovation, which I learned from others who knew him well, have had a great influence on my metalsmithing. I know he will be remembered as the inspiration behind one of the most important metalsmithing movements of the 20th Century. His passing is a great loss. I extend my sympathies to his wife.
Jo-Ann Maggiora Donivan, 5/23/2010: I met Heikki back in the mid-1970's or so here in the Bay Area. He gave a lecturer & workshop for The Metal Arts Guild – what a wealth of information! What a craftsman and lecturer! It was my honor & priveldge to have met him. It's an experience, one that will long stay with me and all who encountered him along the way.
Carol Sakihara, 5/24/2010: The summer workshop I took with Hekki Seppä was rigorous. With not enough hammers and stakes, students rushed to finish one form a day. It was my first metals class and my fingers were swollen one ring size from hammering metal daily. He said it was the best way to learn forming because brass was such a hard material. One day he took our class into the woods and gathered us under a large white tent. He wanted to know what drove us. One student cried, another read her favorite poem. He made a point of having us break our routine and take notice of what inspired us. It was a wonderful summer filled with so many Heikki Seppä quotables and memories but most important he ignited within me his love of metal forming.
Maryellen Hains, 5/24/2010: My thoughts are with his family. May they take comfort in knowing that his legacy is rich and will touch the lives of others into the next century. He will be missed, but not forgotten.
Teresa Callahan, 5/24/2010: I was one of the fortunate ones. Heikki Seppä was my graduate school professor, my friend, my confidante. His achievements remain unparalleled, his personality multi-faceted, and I will forever cherish our long-standing friendship of over 34 years. NO ONE could write a better letter or keep a confidence like Heikki. Forever in my heart, always in my thoughts, love forever, Teresa.
Molly Epstein, 5/25/2010: I never was so fortunate to have taken a class from Heikki Seppä or even meet him but he has had a lasting impression on my work and my thinking. Every class I teach I begin by reading the quote in the beginning of Form Emphasis for Metalsmiths. "Young Ideas are the most fragile of all things. If there is no room for the roots, if there is no acceptance, they will die. This book is dedicated to those who recognize an idea in spite of the embryonic presentation of it." One of my biggest regrets has always been that I never took a class from Heikki Seppä. His work and his words will be passed on. Mr. Seppä, Thank you.
Stacy Koehn, 5/25/2010: The Metals Studio at Haystack School in Maine has a large display of metal worked by Mr. Seppä - wonderful to see it in among the anvils and hammers.
Glenice Lesley Matthews, 5/25/2010: It was a privilege to be one of Heikki Seppä's graduate students. He has always been my mentor. Whenever I finish a hollowware project, I always think "would Heikki approve of this?" He teaching was hard and matter-of-fact, but he had a heart of gold. For him, as students we would go that extra mile. Being his student in St. Louis was a most wonderful time in my life which I remember with great fondness. Here in Australia, not many artisans know of Heikki, but hopefully I keep his teachings alive. Thank you Heikki. God bless.
Balpreet Kaur, 5/25/2010: I remember when Heikki came to the University of Iowa for a workshop. Not only do I remember a vibrant professor and artist but a man who came to my home, drank homemade Elderberry wine that my former Danish husband had made in a plastic garbage can and ate our smorrebrod- open faced sandwiches. He danced, sang and drank our homemade wine. The art and techniques he taught all of us were remarkable for the time. We will carry his legacy forward everytime we use one of his anticlastic forms. BUT, my heart will remember the man that shared song, food and homemade wine...og taler in lille smulle Dansk til os.
Gene Michael Pijanowski, 5/25/2010: Heikki and I enjoyed doing workshops next to one another or across the hall at many different venues. He was a good friend and colleague. I had not seen or communicated with him since he moved west from St. Louis and I to Hawaii from Ann Arbor. I am sorry about this. I will miss his humor and intellect.
Lanette Barber, 5/25/2010: This is very sad news indeed. My deepest condolences to all feeling the loss. Introduced to his book and work by Jamie Bennett, Robert Ebendorf and J Fred Woell at SUNY New Paltz I fell in love with forming metal. I have never taught a class in forming without mentioning his name and accomplishments. Heikki will remain significant in my mind and my teaching. Although many of us in the field have not had the pleasure of meeting those gifted hands, we can feel them some how on the handle of the hammer. He will always there. His metalsmithing contributions are carried forward with all of us who continue to pound metal. Thank you Heikki. I learned alot.
Lois Etherington Betteridge, 5/27/2010: A marvellous silversmith and person. We shall indeed miss him.
Kathy Robbins, 5/28/2010: He formed my interest in metalsmithing and profoundly changed the way I looked at metal. His book became a second bible. Although he is physically gone, I cannot say I will miss him because he is alive every time I get out his book and work on a metalsmithing project.
Susan Wakefield, 6/3/2010: I met Heikki many years ago at the SNAG Conference in Toronto, a nice man. But as a metalsmith, I met well him before, in the book he published through Kent State University Press. That book and his theories helped me and many others in our work manipulating metal to create innovative works that continue to forward metal art in this world we live in. NOT FORGOTTEN.
Max Kaiser, Jr., 6/5/2010: We truly mourn the passing of Master Silversmith and Instructor Heikki SEPPA. We were privileged to do a great deal of silver and gold plating work for Heikki and his student/apprentices over the years, particularly during his tenure at Washington University School of Fine Arts. Heikki's mastery of the silversmithing craft, as well as his sense of humor, advocacy and skillful relating of the silversmithing arts gives him an enduring niche in the pantheon of legendary silversmiths worldwide. We will miss you Heikki–may you rest in peace!
SAS Artisan, Paulette Myers on Heikki's Hans Christensen Sterling Silversmith's Award (excerpted): An internationally celebrated metalsmith, Heikki exhibited and lectured both nationally and internationally. Born in Finland, he attended the Central School of Industrial Arts and the Goldsmiths School of Helsinki where he created his first reticulated spring hinged cigarette case in silver at the age of fourteen. From there he went to Copenhagen, Denmark, where he continued his professional training with the George Jensen Silversmiths, renowned for their silver hollowware. In 1951, he immigrated to British Columbia, Canada, where he lived and worked for nine years. In 1961, he moved to the United States and studied at the Cranbrook Academy of Art in Bloomfield Hills, Michigan. After teaching at the Art Center School in Louisville, Kentucky, for four years, he was offered a position at Washington University, St. Louis, Missouri, where he taught from 1965 to 1992 when he retired as Professor Emeritus. He often spent his summers teaching at the Penland School and Haystack Mountain School of the Crafts where he was sought after by students and metalsmiths anxious to learn from such a master.
Heikki Seppä pioneered the technique of reticulation in the United States, and developed metal forming into a language of form types and methods. His jewelry, holloware, sculpture, and ecclesiastical objects often combined silver with other metals for unique color blends. He also mated silver or gold reticulated surfaces with gemstones. Continuing the heritage of his training at Jensen, silver was the metal used in his most impressive works. He defined and popularized the shell form technique, developing his well known synclastic and anticlastic forms. His intention was twofold: to free metal artists from the traditional functional methods of metal design and to give them a new collection of forms and methods to explore. This interest in expanded form emphasis also led to a new vocabulary developed by Heikki. It is illustrated in his book, Form Emphasis for Metalsmiths, first published in 1978, a significant contribution to the field of metal. In 1996, he published his second book, covering much more on the subject of expanded form which he had developed from 1978 to 1996. This book, which is in the collection of the Library of Congress, Washington, DC, is written in his native language and is used as a required text for all metalsmithing schools in Finland.
In addition to these numerous accomplishments, he was one of the founders of the Society of North American Goldsmiths. He was active in the organization and hosted conferences for its board and membership in St. Louis. In 1987, the American Crafts Council proclaimed Heikki Seppä a national treasure and honored him with a fellowship in perpetuity, the highest honor the Council bestows upon a craftsman. Other awards include a 1992 Gold Metal for Meritorious Lifetime Achievement from the League of Finland Goldsmiths and an Excellence in the Arts Award from the Art and Education Council of St. Louis. Haystack Mountain School of the Crafts in Deer Isle, Maine, established the Heikki Seppä Scholarship in his honor. His work is in the collection of the Renwick Gallery of the Smithsonian in Washington, DC, the Museum of the Cranbrook Academy of Art, the St. Louis Art Museum, and many private collections. He has major metal works in St. Louis at the Shaare Emeth Jewish Temple, at St. Michael and St. George Episcopal Church, as well as a stainless steel sculpture on the campus of Washington University.
His students are a living testament of his gifts. Their accomplishments are significant as metalsmiths and teachers. He spent his life as a pioneer and revolutionary, helping define the modernist aesthetic of metalsmithing, exploring the sculptural realm. Heikki's departure from the traditional accomplished great things by opening up the world of form and spontaneous expression for metalsmiths. Considering these many outstanding contributions to the field, I'm pleased that the Society of American Silversmiths selected Heikki Seppä as the recipient of the 2003 Hans Christensen Sterling Silversmith's Award.
Former student Cathy Wheless: It was with a very warm and proud heart that I went to the Web site to read about Heikki Seppä's award. In 1970 he did a workshop at Virginia Commonwealth University, he will surely not remember me but boy do I remember him. He was an extremely intellectual and gifted man and had so much to teach us but the thing that stands out in my mind was his unique humbleness and refreshing pragmatic approach to the students. I was a young novice student at the time and I remember working right along beside him in the metalsmithing studio and feeling so relaxed and confident because he made you feel so capable. With all of his great skill and accomplishment it was his passion and warmth that came across not his ego.
Thank you Heikki for giving so much care and respect to your students.
Oral history interview with Heikki Seppä, May 6, 2001
An interview of Heikki Seppä conducted by Lloyd Herman for the Archives of American Art's Nanette L. Laitman Documentation Project for Craft and Decorative Arts in America, in the artist's home and studio, Bainbridge Island, WA. Seppä speaks of his early childhood in Finland and being placed in a children's home (twice) in the Karelian Isthmus; his mother's move to Canada; his parents' divorce; his educational background including his course of study at the goldsmith school in 1940 and 1941, at age 14, and his lack of role models; the postwar growth of the metal industry; his participation in an exchange program with Denmark; his athletic accomplishments, especially kayaking; his service in the Finnish Army; his employment in Helsinki; producing objects for Georg Jensen; the state of Nordic decorative arts in the 1950s; his marriage and move to British Columbia; working with refrigeration systems; obtaining Canadian and American citizenship; teaching metalsmithing in a community center; winning prizes for metal pieces in Canadian national exhibitions; attending Cranbrook Academy of Art; introducing reticulation to Cranbrook; and his Cranbrook classmates Stanley Lechtzin, L. Brent Kington, Leslie Motch, and teachers Richard Thomas and Alma Eicherman. Seppä describes in detail the history of and process for producing a reticulated surface; he refers to crimping and spraying metal; teaching at Washington University in St. Louis, Missouri, from 1965 to1992; the origin of his spiculum and shell forms; his books Form Emphasis for Metalsmiths (Ohio: Kent State University Press, 1978) and From Silversmith's Workshop (1996 or 1998); commissions; his gradual withdrawal from juried and competitive exhibitions; his use and limitations of preliminary drawings; the silversmith as a maker of expressive objects; and repairs he made to silver pieces made by metalworkers who did not understand silver. He discusses a difficult period marked by his early retirement in 1992, his wife's death in 1993, and declining commissions.
He talks about becoming reacquainted with metalsmith Laurie Lyall in 1997 and moving to Bainbridge Island, where he now lives with Lyall. SNAG (the Society of North American Goldsmiths), its founders, membership, and five-year dormancy are discussed as is the organization's revitalization. Seppä speaks about stylistic influences; technique and style; his work-related travel; and his admiration for Jack da Silva's sculpture. He comments on the homogenization of the arts; the difference between jewelers and metalsmiths trained in art schools and vocational schools; the distinction between art and craft; the desire of craftsmen to be called artists; the function of critical writing and the lack thereof; Metalsmith magazine; Bruce Metcalf as critic; his commissioned ecclesiastical pieces, including a triangular chalice for an Episcopal church in St. Louis; metalsmiths and manufacturing companies; Fabergé-trained metalsmiths; reticulation at Fabergé's shop; enamel and enamelers at Fabergé; and gemology. Seppä also speaks about his future pursuits and artistic contributions; silver as an expressive medium; and silver as a material for utilitarian objects. He recalls Eero Saarinen, Aline Saarinen, Loja Saarinen, Nellie Peterson, Alma Eicherman, Robert Ebendorf, Michael Good, David Jaworski, and others.
This interview is part of the Archives of American Art Oral History Program, started in 1958 to document the history of the visual arts in the United States, primarily through interviews with artists, historians, dealers, critics and administrators.
The transcript available on the Archives of American Art Web site.
Ellie Silk, 8/25/2010: It was with great sadness that I read of Heikki Seppä's death. First and foremost he was a friend. He would call us from JFK on his return trips from visits to Finland and we would pick him up for an overnight visit. He would regale us with stories of his visits. He was my mentor and always ready to help me solve problem with whatever I was working on. I loved my birthday letters we shared March birthdays, I can't think of anyone else who had such a great command of the English language as a second language.We do miss him.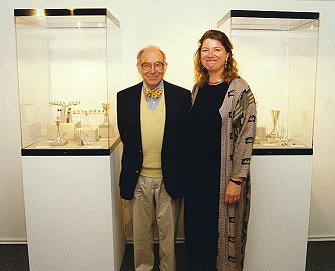 Kurt J. Matzdorf
New Paltz, NY
Born in Stadtoldendorf, Germany
May 26, 1922 - December 20, 2008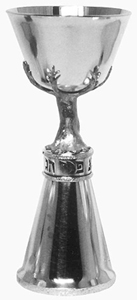 Reprinted from the Poughkeepsie Journal: Kurt J. Matzdorf of New Paltz died Saturday, December 20, 2008 in the Kingston Hospital. He was 86. He had lived in New Paltz for 51 years and prior to that in Germany and England. The son of Wilhelm and Alice Frank Matzdorf, he was born May 26, 1922 in Stadtoldendorf, Germany. He was Professor Emeritus of Gold and Silversmith and founder of the metals program at SUNY New Paltz. He was awarded the 2006 Lifetime Achievement Award from the Society of North American Goldsmiths. This is the society's highest award, which recognizes a lifetime of exceptional service to the metalsmithing community. He was internationally known for his ceremonial work, especially his 16 university maces, 20 presidential chains of office and 10 presidential medallions. He exhibited in major public museums on both sides of the Atlantic, including Victoria and Albert Museum in London and the Jewish Museum in Berlin. He was the designer and creator of the SUNY New Paltz mace and chain of office. They were commissioned in 1981 for the inauguration of Alice Chandler, who was SUNY New Paltz's president through 1996. He taught at SUNY New Paltz from 1957-85. He completed his undergraduate work in sculpture at the Slade School of Fine Art at University College, London and his master of fine arts in silversmith at the University of Iowa. Survivors include two sons, David Matzdorf of London, England and James Matzdorf of Rensselaer, NY; one sister, Elizabeth Duff of Oxford, England; and one granddaughter.
Burial will be at 11:30 a.m. on December 26 at Mount Pleasant Cemetery in Hawthorne, NY. A Memorial service will be held at Temple Emanuel, 243 Albany Avenue, Kingston at a time to be determined. Memorial contributions may be sent to the Kurt J. Matzdorf Memorial Fund, c/o The College at New Paltz Foundation. Arrangements were made by Copeland Funeral Home, 162 South Putt Corners Road, New Paltz. Condolences for the family may be made at www.copelandfhnp.com.
SAS Executive Director Jeffrey Herman, 12/22/2008: A true gentleman and great silversmith. That is what I'll remember about Kurt Matzdorf. I had the pleasure of meeting Kurt only one time - it was 1997 at Yeshiva University Museum in New York when SAS had its Judaica Today show. I took the picture above, with Cindy Eid standing next to Kurt. What impressed me most when we were speaking that day, was my feeling of a profound presence of someone who has had a huge impact on the world of silversmithing and teaching. What a sweet and talented man he was.
SAS Artisan Munya Avigail Upin, 12/25/2008: Kurt Matzdorf was a wonderful mentor and human being. I didn't study with Kurt, but was inspired by him, none the less. I feel incredibly blessed to have known Kurt and was honored to be a colleague. We always had a lovely chat when our paths crossed, or during an occasional phone call. My thoughts are with his family at this difficult time. May they find comfort in knowing that he was loved by so many.
SAS Artisan Alfred Ward, 12/29/2008: It was sad to receive the news about Kurt Matzdorf. Unfortunately, I never met Kurt but admired his prolific work over the years.
So many of those "older guys" are dying now - particularly those that were the backbone of the London Trade when I worked there. I think often of Frank Beck - the main silversmith for Wakely and Wheeler and Asprey's. He manufactured almost all of Gerald Benney's designs and once told me that Robert Gooden had used the back of a cigarette packet to draw his idea for the Royal Gold Cup. That's all he gave Frank and of course he produced a
masterpiece from that little sketch. The base plate engraving of the Royal Coat of Arms was done by George Lukes - the guy the taught me to engrave back in 1958 when he was still an apprentice. Frank is probably an unknown genius. The Goldsmith's Company finally recognized him in the 80's and gave him the freedom.
I still have the engraving tool that Fred Fryer made for me when I left London - he's another unsung hero of the trade along with Fred Barnes the enamellist. So many have passed on now.
Charles Lewton-Brain, 1/3/2009: He was incredibly important in my life. I knew him when I was still a child, and he critiqued my application for Art College. When I was in graduate school he helped direct the organization of fold-forming. He was a friend and good man, influential in hundreds of silversmiths and jewelers lives.
Melissa Veres, 1/6/2009: I had the pleasure of speaking with Mr. Matzdorf over the last several years, when I had the opportunity to do some hand engraving work for him. The pieces he sent for engraving were just beautiful. I love to engrave on hand made pieces, there is something of the maker that is left in the metal. The engraving that I do to commemorate the occasion of the gift "seals" the sentiments, and closes the making of the piece. We had this discussion only 10 days before his passing, upon the receipt of the last cup he had me engrave for his grand daughter's bat mitzvah. I won't get a chance to meet him face to face now, but I will remember his kind and generous spirit. My heartfelt condolences for his family, and friends.
Myra Mimlitsch-Gray, 1/7/2009: Kurt was a forceful presence in the New Paltz community. Although he retired from teaching in the mid-80's, he remained quite active and visible in the field. I feel lucky to have spent some time with him, although not nearly enough! I was honored when he invited me for lunch and a studio visit one day, and I recall the hours we spent together, talking about his work and his many experiences. I was thrilled to have him accept a visit to my studio as well. Kurt was elegant and well-spoken, and he was extremely dedicated to his principles and beliefs. I admire his lifelong commitment to the field. Thanks, Kurt!
Stephen Walker, 1/7/2009: Kurt Matzdorf was a very "old school" sort of craftsman and a real gentleman. I met him several times early in my career. He spent several days with us at the SIU Carbondale mokume symposium in 1981. He was very generous with his knowledge and very confident in his values in a way that that you do not see so much anymore. It was a pleasure to know him.
Cynthia Eid, 1/11/2009: Kurt Matzdorf's teaching has probably influenced thousands of metalsmiths, as his students have passed along the knowledge gained under him. I was always thrilled to have a conversation with such a legend, and he was always warm and giving. I am honored to have made the Lifetime Achievement Award given to him by SNAG, the Society of North American Goldsmiths. In addition to his warm personality, and expertise with silversmithing, I'll always remember his sense of humor, because when he received the SNAG award, which is a silver vessel mounted on marble, he quipped, "Oh, I can drink my ginger ale from this!"
Jennifer Friedman, 1/11/2009: I had the opportunity to meet Kurt while in London in 1999. I was standing at an exhibit of Egyptian jewelry at the British Museum and he walked up to me and asked me why I was looking so intently at the pieces. I told him and then he asked my name and I asked him for his. Well, when he told me his name I was like a kid in front of a movie star. Totally in wonder and almost forgot to talk. We had a wonderful discussion for about 15 minutes and I will cherish it always.
Lee Boroson, 2/6/2009: I was deeply saddened to hear of the passing of Kurt Matzdorf. I had the great experience of studying with him for three years as an undergrad in Gold and Silversmithing. Though we did not always see eye to eye, he stuck with me and I with him. I learned more from him than from any other teacher with whom I've studied. Because of his expectations to explore techniques in great depth, I was able to develop the confidence to take many risks in my work. He was an incredibly generous and knowledgeable man and I always had the greatest respect for him. He believed in me and opened doors for me as a student for which I could never thank him enough.
Deirdre O'Callaghan, 5/19/2009: I am lucky enough to own a piece of Kurt Matzdorf's silver, and on a whim I wrote him to find out more information on the piece. He called me one day and we had the most amazind chat; I learned a great deal about the man and the piece-it is a rare opportunity for a silver collector and one I will cherish. My only regret is that I was unable to take him up on his offer to visit him before he passed. A lovely man who will be missed.
Barbara Becker Simon, 5/24/2010: I was introduced to metalsmithing and jewelry in my first class in 1966 at New Paltz with Mr. Matzdorf. It changed my life and clued me into what I wanted to do with my art. I got the best foundation a metalsmith could ask for from this giving and thorough teacher who never let his students settle for less than the best they could do, either aesthetically or technically. I will always be grateful.


Michel Ann Royston
Hat Creek, CA
Born in Berkeley, CA
February 1, 1947 - December 4, 2008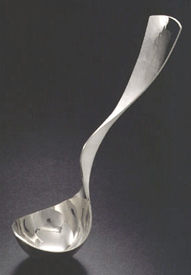 Reprinted from the Mountain Echo: Michel (Mikie) Ann Royston died on Thursday, December 4, 2008 at a friend's home in Redding after a 2-year battle with cancer. An artist nationally known for hand-forged jewelry and elegantly designed and executed sterling flatware, Michel's work was recognized by the American Craft Council and is in the Smithsonian Institution, the Oakland Museum, the Dallas Museum of Fine Arts and public and private collections.
Michel was born in San Francisco in 1947 and spent her childhood in Mill Valley, California. After attending Reed College in Portland, Oregon and the California College of Arts and Crafts in Oakland, she studied with John Marshall at the University of Washington in Seattle, graduating in 1973 with a degree in Metal Design.
In 1975, Michel moved to the family home built prior to World War II by her grandfather in Hat Creek, California, to live in the natural setting that inspired her.
During her 33 year residence, she made many long-lasting friends in the Intermountain region from all walks of life and political persuasions. She was always ready to talk and share what she thought needed to be done. Her opinions were strong and she did not mince words. She was formerly married to David Scott of McArthur with whom she had a son, Max, in 1986. Michel was a leader of the Hat Creek General Plan and helped organize the community toward the common goal of preserving the natural beauty of the area for generations to come. Michel was also an enthusiastic supporter of the Hat Creek Volunteer Fire Department, which awarded her its 2008 Certificate of Acknowledgment for Dedication and Outstanding Service. Michel was well known for her love of dancing and waltzed during the last week of her life. Many, many people from coast to coast will miss her.
Michel is survived by her son, Maxwell Jackson Scott, her sister, Tonia Lee Royston, her brother, Curtis Robert Royston . She was predeceased by her parents, Robert Norman Royston, formerly of San Francisco and Evelyn Dunwoody Royston, formerly of Adin.
Donations in her name may be made to the Mercy Hospice, 1544 Market Street, Redding, CA 96001. A memorial service in Hat Creek will be announced in early spring.
SAS Executive Director Jeffrey Herman, 1/8/2009: Michel was juried into the Society based on her beautifully forged sterling flatware. I didn't know her well, though she had been an Artisan member since 1991. I had known about her cancer for a couple of years, but she didn't advertise her illness. Yet another talented silversmith passes away.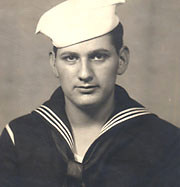 Harold Rogovin
Tampa, FL
Born in New York, NY
March 5, 1926 - June 30, 2007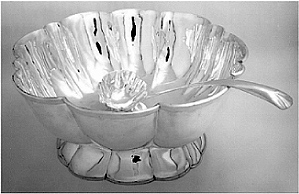 Reprinted from The Brooklyn Paper, July 14, 2007: Harold Rogovin, the father of Brooklyn Paper Publisher Celia Weintrob and a metal-working master who participated in the restoration of the Statue of Liberty and the domes of Ellis Island two decades ago, died Saturday, June 30, in Tampa, Florida, after suffering a stroke in December. He was 81.
Prior to moving to Florida in 1987, he lived in New York City and Califon, New Jersey.
Rogovin was born on March 5, 1926, in the Bronx, the son of Mildred and Leo Rogovin. After graduating from DeWitt Clinton High School in 1943, he served in the Navy in World War II.
Rogovin then attended City College of New York, Brooklyn Polytechnic, and the Craft Students League before starting his own metalsmithing business.
In 1964, Rogovin founded Brass Artisans, where he fabricated reproductions of antique chandeliers and brass beds. At that time, the master metalsmith became most noted for his hand-raised holloware, including a three-piece coffee service, a variety of bowls and trays, a candelabra, and a spectacular oval-fluted, two-foot-long punch bowl that were all later part of an exhibition at the New Jersey State Museum.
During this period, he was a silversmithing instructor at the Craft Students League, and an adjunct professor at Staten Island Community College. He was also part of the team that restored the Statue of Liberty and the domes of Ellis Island in the 1980s.
In addition to his daughter, Rogovin is survived by his wife, Katherine, and two other children — Kate Rogovin of Beacon, New York, and Alex Rogovin, of Flemington, New Jersey — and five grandchildren: Zosia Kruk; Theresa Rogovin; and Paul, Rachel Leah and Sara Weintrob.
SAS Executive Director Jeffrey Herman, 11/15/2008: I was saddened to hear of Harold's passing from his daughter Kate, who learned silversmithing from her father. Harold was an affable individual. We joked with each other over the phone, even though he was always concerned that the craft was waning and his work wasn't appreciated. The giant punch bowl pictured above was Harold's crowning achievement. It was raised from a 24" x 22" x 16-gauge (.050" thick) piece of sterling. The flutes were chased using wooden swage blocks to back-up the piece, as it was impossible to fill something this size with pitch. He had to make the steel stakes and hammers used for the project. The the bowl measures 20" long x 18" wide x 10" tall, weighing 175 troy ounces. It has a five-gallon capacity! The ladle was forged out of a single piece of sterling. Gool ol' Harold must have had his arms in ice every night after working on these pieces! I miss him.
Jennifer Friedman, 4/19/2011: Harold was my cousin going back several generations. I met him at an art show way back in 1978 in New Jersey and visited him many times at his studio and home in New Jersey. Oh, the tales he told of his grandfather who was also my great grandfather. His work was beautiful and he saw what I was doing and gave me suggestions for shortcuts. I miss you Harold.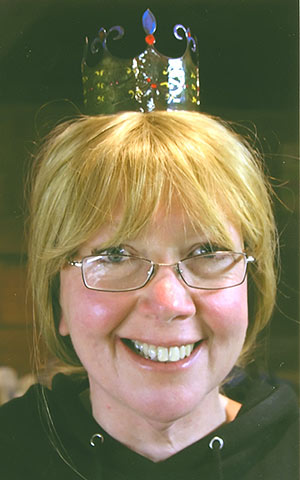 Susan Elizabeth Wood
Mendocino, CA
Born in Baltimore, MD
June 12, 1951 - December 29, 2006
Carla Tomaszewski, 3/14/2007: I had only found out about Susan's death at the end of February while attending the ACC show in Baltimore. Susan and I spent the first 12 years of our lives growing up together in Sudbrook Park, a suburb of Baltimore near Pikesville, MD. We were next-door neighbors/fast friends, doing everything together. Each of us considered the other's parents our own. When her parents, Ron and Orlyn (both medical doctors) decided to move to Florida, we kids, at the age of 12 were devastated. They left on my birthday, June 28th, 1963. Eventually they made their way out to California where Susan's dad got a job at U. of Berkley. Through the years we visited each other and kept in touch through holiday cards and phone calls.
Susan was steered to her profession at a very early age through her exposure to her parent's hobby of lapidary work. Her mom loved enamel work and her dad cut, polished and set precious and semi-precious gems. We kids loved it when her dad would give us the leftovers of cut and tumbled stones for our "rock collections". By the age of 10 we could name all the gems by their proper names.
The last time I spoke with Susan was about 6 months ago. I knew she had cancer, but she would not let on how bad off she was. Trying to think ahead, I asked Susan for the address and phone number of her daughter Canada, since I didn't have it and would need to know about things if Susan became more ill. It was by a very strange set of circumstances that I found out about her death. We had been attending the ACC's annual show at the Baltimore convention center off and on for many years. However, it had been a long while since I last attended, so I and my daughter made a special day trip to Baltimore for the show this past Saturday (Feb. 24). After going through the first several rows of the show, I came across a goldsmith from California. On a whim, I said to the artist, "You might know a good friend of mine – Susan Elizabeth Wood." She had that glimmer of recognition, and then embarrassingly said, "Oh yes, didn't you know, Susan died not too long ago." I was floored and had sudden bursts of tears throughout the afternoon (and following weeks). When I returned home, I called Canada and confirmed the sad news. She said she had wanted to contact me but could not find my number among her mom's papers. I truly feel that Susan, in some way guided me to that California goldsmith, a total stranger among thousands of people in that convention hall, to let me know she was gone.
You really can't imagine how distressed I am that I cannot be at the memorial. First, I feel very guilty and empty inside that I did not know until Feb. 24th that Susan had died, and that I wasn't there to say goodbye to her. Now, with her memorial upcoming, I cannot be there either, and it is really a bummer! Please let Canada know that I will be with you all in mind and spirit to give a final farewell to Susan. You know, I was thinking that of all those who will be there, I am the one who has known Susan and her family the longest. We were both almost exactly the same age – Susan's birthday on June 12th and mine on the 28th. Also, my mom, Stella Hazard who is 91, still lives in the house next door to where Susan and her sister Carolyn grew up. Mom knew and loved Susan's parents Ron and Orlyn. Stella also wishes to extend her sympathies to Canada and all Susan's friends and colleagues during this time of mourning.
The following is an obituary written by Susan's good friend Irene McGuckin. She collaborated with Susan over the years and was with her the last 2 months of her life.
Susan Elizabeth Wood died Friday, December 29, 2006, in Oakland, California, following a long illness. She was the daughter of Ronald and Orlyn Wood, and was a long-time resident of Mendocino.
A gifted and widely respected metalsmith for nearly thirty years, Susan credited the Mendocino Art Center with sparking her lifelong passion for metals, when she took her first jewelry class there at the age of 15. She went on to earn her MFA in Metal Arts at Humboldt State University. Susan gave back to both schools, teaching at Humboldt for several semesters, and both directing and teaching in the Mendocino Art Center's jewelry department for many years. In recognition of Susan's many contributions, the Center last year rededicated the jewelry studio in her name. For the past four years, until illness forced her resignation in September 2006, Susan had been adjunct professor of metalsmithing at California College of the Arts in Oakland.
Possessed of an exacting work ethic and artistic standard, Susan's mantra was "front, back, inside and out," and each piece of metalwork she produced was finished in all four dimensions. She excelled in soldering, fabricating, woven metal techniques, chain making, and mechanisms, and taught these techniques to a grateful and devoted group of budding and seasoned metal arts students at countless schools and art centers throughout the United States. Her award-winning work has been included in numerous books and publications, as well as private and public collections.
Susan was devoted to her art and to her students, to whom she gave generously of her vast knowledge and her limited time among us. Those fortunate enough to have known her will remember a tremendously talented artist, but even more, a modest, kind, and gentle spirit whose ever-present radiant, angelic smile belied a quirky, acerbic, and devilish sense of humor. She lived and died with a courage and grace that will never be forgotten by those who knew and loved her.
She is survived by her beloved daughter Arianna Canada Onstad, her devoted Siamese cat Bodhisattva, and her many, many loving friends, colleagues, and students. Go in peace and laughter, Susan–you are an inspiration to us all.
For information regarding a future memorial service in celebration of Susan's life, please email SusanWoodInfo@yahoo.com. Friends wishing to help with planning the event should also email their desire to this address.
Nancy Carolyn Wood, 6/28/2009: Your remembrance: Susan was my older sister and I woshipped her. No matter who may have claimed her over the years, she and I were a destiny together in art that is inseparable. She loved art, and animals. She was exactly what our parents wanted her to be, a successful professional in art, a great mom with a beautiful tallented daughter and she was a respectable wife. She worked hard all of her life, and she faced every hardship with unending stamina. We were not even speaking to each other when she died, no one expected her to die. She had been ill but was recovering, or so it seemed. I miss her more than an yone because our sisterly love-hate relationship is the stuff of which books are made but lessons never learned. I loved Susan with all of my heart, there will never be anyone with her strenth of will here again, but I'm sure she plans to reincarnate. Buddhasatva was a good clue. Canada, her daughter, and I have become good friends, Susan would have wanted that. Love, Carol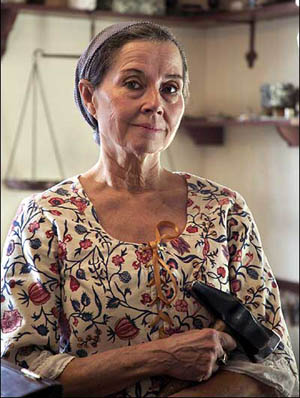 Gayle Clarke
Williamsburg, Virginia
Born in Richmond, VA
July 5, 1941 - March 29, 2006
SAS Executive Director Jeffrey Herman, 5/7/2006: Gayle M. Clarke passed away quietly earlier this year from cancer. Her selflessness and concern for others was evident right up to the week before she died. Even then, as she many times before, she made me blush with her seamless, edgy comebacks.
She was an Artisan member of SAS since its inception in 1989. Gayle served a seven-year apprenticeship at Colonial Williamsburg (the only apprenticeship program in the United States), specializing in piercing their very large handled baskets while answering questions from visitors to the silversmith's shop at the Golden Ball.
Gail Hedgepeth, Master Hand Engraver, 5/9/2006: Along with being an accomplished seamstress she was also an avid salsa dancer, entering and winning several competitions. She loved the outdoors, animals and her flower garden.
What started out as a job selling jewelry to support herself and her 3 children, turned into her life's work. Also, Gayle enhanced her skills by studying engraving over 15 years and applying the art to her pieces. She participated in the SAS Engraving Silver Works program.
She always held herself with grace and stature, but loved a fun time. She was the best friend anyone could ever ask for. She knew how to be a good friend. She loved family gatherings so much. In the times where holidays approached, she would spend dinners and events with my large family rather that sit home alone. She came to know all of my family and loved and cared for all of us. She was a woman who loved life, family, and friends. Also, her underlying goal was always to see her three children grow into wonderful adults and her contribution to them was her dedication to see they got the education, love and support they needed to grow.
The Colonial Williamsburg Foundation before Gayle's passing: Traveling through the English countryside in 1741, William Hutton happened upon a blacksmith's shop, where he saw "one or more females, stripped of their upper garments, and not overcharged with the lower, wielding the hammer with all the grace of the sex." If Hutton was taken aback, it might not have been so much by the costuming as by finding women working a trade usually practiced by men.
Journeyman Gayle Clarke is working in the James Craig silversmith shop on a typical July day in Colonial Williamsburg. Her sleeves are rolled, she's sweating, and she's swinging a forging hammer over a thick piece of silver. In spite of the Tidewater humidity, there's a fire blazing in the fireplace so Clarke can anneal the ingot when it's hardened. Guests mill about the shop. A woman looks around, walks into the back, peers down the hall, turns to her companions and says, "Oh, I guess none of the silversmiths are working today."
Clarke laughs as she recounts the story, variations of which have happened many times over her nearly twenty-five-year career. "I don't get much of an opportunity to talk to those folks," she says. "They've got their minds made up about women's roles. But the guests that ask where my husband is, or why am I working, those are the guests that are fascinated to find out about the historical accuracy of my presence."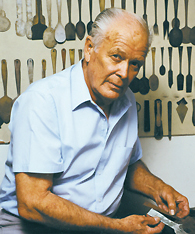 Allan Adler
Studio City, California
Born in Missoula, Montana
May 8, 1916 - December 3, 2002
Following article courtesy of Silver Magazine©:Celebrated silversmith Allan Adler died after suffering a stroke. He was 86.
Adler began his career as an apprentice in 1938, learning the trade from famed seventh-generation silversmith Porter Blanchard, who was his father-in-law. In 1940 he went into business for himself and soon began attracting celebrity clients such as Errol Flynn, Orson Welles, and Montgomery Clift. He became known as "silversmith to the stars" because of his association with Hollywood luminaries, a relationship that continued throughout his life. In more recent years his customers included Steven Spielberg, Cher, Julie Andrews, Paul Newman, Candice Bergen, and Michael Jackson, who commissioned an elaborate silver belt for a concert tour.
Born in Missoula, Montana, Adler moved to Burbank as a child. In 1938 he married Rebecca Blanchard and two years later opened his first shop on Sunset Boulevard. In 1980 a fire destroyed the shop and Adler built a new workshop in the San Fernando Valley. He also opened shops in La Jolla, Corona del Mar, and San Francisco.
Adler designed flatware and hollowware in plain, geometric shapes with clean lines. A teardrop-shaped teapot and a coffee urn looking like an oversized egg were two of his favorite pieces. "I strive for simplicity and believe that simplicity is beauty and that a thing of beauty lives forever," he once said.
One of his many special commissions was a silver coffee urn (below), which he made for a John F. Kennedy presidential campaign fund-raising event. He also designed flatware for California Governor Pat Brown and a silver hairbrush for Winston Churchill. Photo courtesy of the private collection of Mr. and Mrs. William Hughes Jr. Photo by Larry Stanley.
With the advent of World War II, Adler added jewelry to his repertoire. It exhibits the same clean lines typical of his hollowware and flatware. It also gave him an opportunity to incorporate pre-Columbian iconography, which he particularly loved, into his work.
Adler was one of the few remaining master silversmiths in the country and considered himself a member of an endangered species. "Once I had twenty-four craftsmen working for me. Now I have seven," he told the Los Angeles Times in 1990. "More recently that number dropped to four. I do not exaggerate when I say silversmithing is a lost art. It died in my lifetime."
Adler received numerous awards, including a "Living Treasure" proclamation from the state of California legislature and the Good Design Award from the Museum of Modern Art in New York. In 1953 he was asked to design crowns for Miss Universe and Miss U.S.A. He also designed the famous silver "shoe" campaign pin (Fig. 2) for Adlai Stevenson's presidential race in 1959 as well as pins for the first seven American astronauts in space.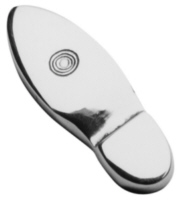 Adlai Stevenson shoe pin. Photo by Larry Larry Stanley.
In his spare time Adler loved to sail. He owned a seventy-six-foot yacht, Shawnee, built the same year he was born, which he bought in 1954 and painstakingly restored to its original condition.
Adler is survived by his wife of sixty-three years, his daughters Linda Adler Hughes and Cynthia Adler Larson, three grandchildren, and three great-grandchildren.
Articles about Allan Adler appeared in Silver Magazine in November/December 1998, January/February 1999, and September/October 2001.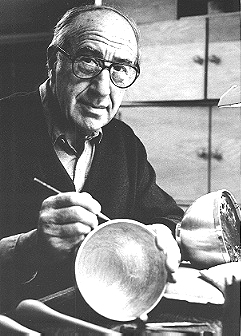 Henry Petzal
La Jolla, California
Born in Berlin, Germany
August 16, 1906 - March 15, 2002
Art Pryor, 7/5/2002: I am Henry Petzal's son. I am sorry to inform you that Henry passed away, quietly, in his sleep on March 15, 2002, at the age of 95. I am the curator of his tools, plans etc. If anyone has any thoughts about these materials, please contact me at: artpmdk@aol.com. Thank you.
SAS Suporting Member Fred Zweig, 7/5/2002: It is always sad to hear of someone's passing. Doubly sad when it is someone you admire. I did not know him personally but knew of his skill in design and craftmanship. His passing is a great loss to us all. I have never believed that the storage of tools does any honor to the man or the tools. I think they should find a home with a craftsman so that they can continue their usefulness and can be used to creat items of use and beauty. The designs and paperwork should be placed in a repository that would allow access to them for research and study of Henry's life and love of the craft. I have no suggestions as to where this place might be. Henry Petzal will be missed.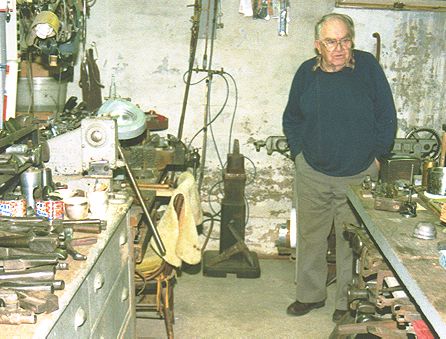 Reginald W. Wood
Gardner, Massachusetts
Born in Penzance Cornwall, England
October 20, 1919 - September 11, 2000

SAS Executive Director Jeffrey Herman, 1/25/2001: Reggie was born in Penzance, Cornwall, England, and came to the U.S. in 1921. He attended public school in Gardner, Massachusetts, and went on to Worcester Vocational for sheet metal development, and Worcester State College for production control & manufacturing methods.
Reggie began his apprenticeship at Arthur J. Stone Silver Shop in 1937. Later that year the shop was sold and renamed Stone Associates. He was trained under Stone craftsmen including Arts & Crafts Medalists Herbert Taylor in holloware and Charles Brown in flatware until 1942.
Reggie served in the U.S. Airforce from 1942-1945 in Europe, performing sheet metal repair on battle damaged aircraft.
Returning to Stone Associates in 1945, Reggie produced holloware and flatware until the shop's closing in 1957. After the closing, he worked in product development and management in private industry including holloware and flatware sample making for Old Newbury Crafters in Newburyport, Massachusetts. Reggie continued creating ecclesiastical objects, trays, pitchers, bowls, presentation pieces, trophies, and jewelry up to his death.
He was a strong believer in form following function which was reflected in his heavy utilitarian pieces. Whenever we saw each other, he would invariably comment on the improbable marketing of much of the silver being produced by student silversmiths; Reggie was extremely practical in his design.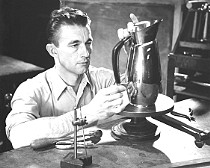 Frederick A. Miller
Brecksville, Ohio
Born in Akron, Ohio
February 6, 1913 - January 8, 2000

SAS Artisan Michael Banner, 1/11/2000: It was indeed a sad phone call from Jeffrey [Herman] relating Fred Miller's death, a person always in my mind when in the process of completing a piece of holloware. I have many fond memories of that short and very productive year as a student at the Cleveland Art Institute in the early sixties, with a year between undergraduate graduation and the army. The Cleveland Art Institute agreed to take me into a professional studies program for the nine months working with Fred Miller, John Paul Miller, and Kenny Bates. It was a very intense program working with Fred for three days, John Paul one day, and Kenny one day. I have never worked with people who were more caring and diligent in the teaching process. Fred, as always, was the toughest taskmaster, only because he wanted one to do all things correctly. He was always good for a lively discussion concerning what was right and wrong. I feel that the trio were responsible for my eventual progress into holloware. When I had my studio in Chicago they would visit and I felt proud that they would take the time to look in to see what work I was involved with at the time. That was typical when at Cleveland. The school would not let me use the facilities in the evening unless I was in an evening class. When John Paul heard this he helped me set up a studio in my apartment relating as how he made jewelry on his footlocker in the Army, so how much space did one need.
They really cared for their students and they have made wonderful mentors for my life as a craft person. Good bye Fred, have a wonderful trip.
SAS Artisan Elizabeth Nutt, 1/12/2000: From the time I was twelve I wanted to be a Silversmith and study with Fred Miller at the Cleveland Institute of Art. After high school and two years of college I was accepted into the program. Mr. Miller was a brilliant teacher and a daunting taskmaster. As the only female silversmithing major in my class I was completely intimidated but resolutely vowed to prove to Mr. Miller that the time and effort he spent on my behalf would not be wasted. I was serious about my chosen profession and would not "go off and get married" as he felt his female students so often did.

Fred worked on his own projects at night and as our skills developed we were permitted to work then too as long as we did not disturb him. Fred moved metal so quickly and accurately that he made everything look easy. To our amazement he would "raise" a large piece while squatting on top of the studio's center table, a position that seemed to defy gravity. We were mesmerized and inspired to see a master at work.
My favorite memory of Fred was at my 1963 graduation. As I went up to receive my diploma I looked into the audience and saw Mr. Miller looking up at me with a stern intense gaze. Our eyes met and for a split second he smiled and winked. At that moment I knew that my hard work would pay off and that I would be successful.
All of us who were fortunate enough to study with Fred Miller feel such a sense of loss at the news of his death. It is the end of an era, but he left us with a body of work that will inspire generations of silversmiths to come.
SAS Artisan John Marshall, 1/14/2000: Fred Miller was a silversmith that cannot be forgotten in the history of the field because of his dedication to craftsmanship and pure design. I will always be grateful for his teaching which played a major part in my career.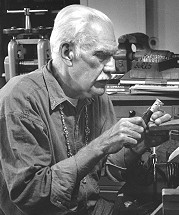 Richard H. Reinhardt
Philadelphia, Pennsylvania
Born in Philadelphia
September 8, 1921 - December 29, 1998
Winter 1998-1999 issue of SASnews: We were saddened to learn that Richard H. Reinhardt died late last year. He had been an Artisan member since the Society's founding in 1989. Known for his exploration of new ideas, outstanding craftsmanship, and teaching skills, Reinhardt was an inspiration to his students. Below is his obituary which appeared in the Philadelphia Inquirer:
Richard H. Reinhardt, 77, of Newtown Square [PA], a silversmith and jewelry maker who spent more than 50 years at the University of the Arts [in Philadelphia] as a student, teacher of crafts, and school official, died of bladder cancer on December 29 at Paoli Memorial Hospital.
During the 1950s, Reinhardt founded the jewelry and metalsmithing programs and was chairman of the crafts department at the Philadelphia Museum School of Art.
When the school became the Philadelphia College of Art in the 1960s, he was chairman of the industrial design department. He was named associate dean of faculty in 1965, became dean five years later, and served until 1976.
He taught silversmithing and jewelry making for eight years, then returned to the dean's office for two years to help establish the University of the Arts. He retired in 1986.
Widely known as a silversmith, he exhibited his work at the Metropolitan Museum of Art in New York, the Philadelphia Art Museum, and in museums in Rochester, NY; Amsterdam, Holland; and elsewhere. His work is included in the permanent collections of museums in Boston and Philadelphia, and in the Smithsonian.
In a retrospective show at the University of the Arts last spring, Inquirer art critic Edward J. Sozanski called attention to Reinhardt's "Superb craftsmanship" and said his career "demonstrates that craftsmanship can readily transmute into art, even when the craftsman isn't striving consciously to produce art."
He added: "After more than a half-century of hammering silver, Reinhardt appears to be having fun with it by seeing how far he can push traditional silversmithing techniques. It's inspiring to encounter an artist so long at the bench who not only still enjoys his work but who continues to grow in its practice."
Reinhardt began studies at the Pennsylvania Museum and School of Industrial Art (as the art school was then known). He left during World War II to work as a draftsman and to serve in the Marines as a drill instructor.
He returned to school after the war, earning his degree and staying to teach. When he retired, he was named professor emeritus and made an honorary doctor of fine arts.
He is survived by his wife, Hazel; two children, five grand- children; and five great-grandchildren. Memorial contributions may be made to the Richard H. Reinhardt Scholarship Fund at the University of the Arts, 320 S. Broad St., Philadelphia, Pennsylvania 19102.
Ronald Hayes Pearson
Deer Isle, Maine
Born in New York, New York
September 9, 1924 - August 25, 1996

Fall 1996-Spring 1997 issue of SASnews: Ronald Hayes Pearson, a metalsmith for nearly 50 years whose many honors include the 1996 Gold Medal Award from the American Craft Council, died August 25, 1996, in home in Deer Isle, Maine. He was 71.
His work is included in major collections at the Smithsonian Institution, the American Craft Museum, the Museum of Modern Art, and many other noted institutions. Governor King of Maine recently nominated Pearson for the National Treasure Award, administered by the University of North Carolina. He was one of five finalists for that honor. Although best known for his jewelry, Pearson made significant contributions to the areas of sculpture, industrial design, teaching, and to organizations that support craft. Chief among such organizations was Deer Isle's Haystack Mountain School of Crafts, where he taught and served on the board of trustees for many years.
Pearson studied at the University of Wisconsin and the School for American Craftsmen at Alfred University. For many years, he lived in Rochester, New York, where he and three other craft artists opened Shop One, the first artist-owned craft gallery in the country. He moved to Deer Isle in 1971.

In 1987, he received an honorary doctorate from the Portland School of Art (now the Maine College of Art).
Donations may be made to the Ronald Hayes Pearson Scholarship Fund at Haystack for metals students. For information, call 207/348-2306.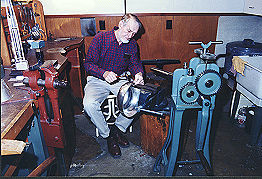 Solve Hallqvist
Cleveland, Ohio
Born in Lund Sweden
April 4, 1919 - April 24, 1996

SAS Executive Director Jeffrey Herman in Spring 1996 issue of American Silversmith: SAS Artisan Solve Hallqvist of Cleveland, Ohio, died at the age of 77 on April 21, 1996, from a brief illness. Solve, an Artisan member of SAS, was well known in the Cleveland area and taught silversmithing for 16 years at the Cleveland Institute of Art. Born April 4, 1919, in Sweden, he apprenticed in 1942 with C.F. Carlman, Stockholm's Court Jeweler, and furthered his education from 1943-1950 with for Baron Eric Von Flemming, Stockholm's Court Silversmith.
His professional activities until his death were: 1948, silversmith for Bone Bakker & Zoon, Amsterdam, Holland, and Jan & Leo Brom's Edelsmitse, Utrecht, Holland; 1951, Experimental Silverwork for Steuben Crystal, New York, NY; 1952, silversmith for Henry Hopkins, Baltimore, MD; 1952-1984, silversmith for Potter & Mellon, Inc. Cleveland, OH; 1960-1961, Partner & silversmith with Stacey-Hallqvist, Toronto, Ontario, Canada; and from 1984 up to his death, maintained a home studio in Cleveland, Ohio, specializing in sterling holloware, flatware, and jewelry. He also participated in numerous exhibitions since 1957.
Solve was a very unassuming, gracious, and soft spoken person. He was truly a gifted silversmith, preferring to hand carve blocks of sterling instead of casting, and hand raising in place of spinning. His work was so highly regarded that he continued to produce pieces for loyal patrons in Sweden. Though he rarely promoted himself and never participated in the craft circuit, he should be remembered as an American treasure.
SAS Supporting Member Callie Stacey, 3/23/2000: Solve worked for/with my father, the late Canadian silversmith, Harold Stacey (1911- 1979, in New York. They worked for Steuben Glass to design and make sterling prototypes for possible production and sale with their fine crystal.
Dad was recommended to Steuben, we think, by Margret Craver, as he had attended the Rhode Island School of Design Workshop Conference (sponsored by Handy & Harman) in 1949. He arrived in NY in the fall of 1950 and early in 1951, he interviewed and hired Solve. Originally, Alma Eikerman had been approached to be Dad's assistant, but she didn't want to leave her teaching job and suggested Solve instead.
Dad and Solve eventually made about 50 small pieces, some incorporating glass, that were mainly designed by the Steuben glass staff, but with plenty of input from Dad as to what glass designs could be successfully translated into silver. Apparently he and the Steuben people didn't always see eye to eye.
The first photo is of Solve with one of the candlesticks they made, in their studio in Carl Place, Long Island.
As you can see by the next pictures, Solve became a close friend of our family (myself, Callie and my brother, Bob). He visited often, and loved dancing with my mother Peggy and Dad's sister Joan. We went on many family drives into the country with him, including many times to Jone's Beach. We kids called him Uncle Solve, but I guess we couldn't pronounce his name correctly, so he in turn called himself "Foff," an umlaut over the "o."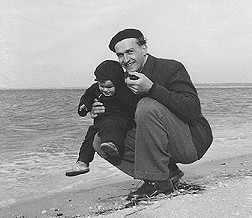 The Steuben project eventually was shelved with the start of the Korean War and Dad returned to Toronto in the spring of 1950. The 50+ pieces they made went into storage and remained forgotten until I started my researches into Dad's work. After letters of inquiry to both Steuben in NY and to Corning, a carton was found in storage with 99% of the pieces intact! They were donated by Steuben to the Corning Museum of Glass, where I've been assured they are a permanent part of the collection (though not on view).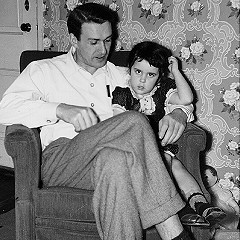 Solve moved to Cleveland and started his successful career there. He married Peggy late in 1952. I append a picture of her "bride crown" that he made for her. On the reverse of the photo he sent to us, he notes that "the oval stones are turquoises and the small ones garnets" and there were "pearls on the fine points." "It took me 91½ hours to make it."
In 1959, my father decided to move his studio from his basement in Willowdale, a suburb of Toronto, to an industrial area, and he asked Solve to come to Toronto to be partner in his business. They became "Stacey-Hallqvist: Silversmiths & Metalsmiths" and were together over a very busy 2 years, when Solve and Peggy returned to Cleveland. While in Toronto, Solve worked on many commissions with my father, but also managed to work on pieces of his own: particularly sterling jewellery and in the photo below, a tea pot for his mother.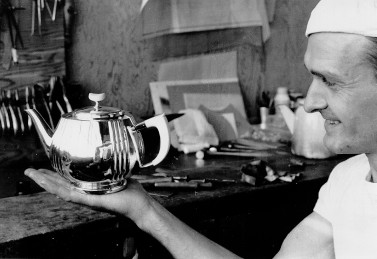 Both Aunt Peggy and Uncle Solve have been very helpful and sympathetic in my researches into Harold Stacey's career. I miss him very much.
I'd be very happy to hear from anyone who knew my father. Callie Stacey, 122 Bowood Ave., Toronto, Ontario, M4N 1Y4, 416/487-3145, Fax: 416/487-3075, cstacey@netcom.ca.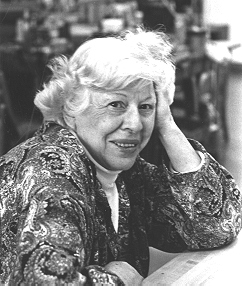 Alma Eikerman
Bloomington, Indiana
Born in Pratt, Kansas
May 16,1909 - January 3,1995

SAS Artisan Susan Ewing in Winter 1994-1995 issue of American Silversmith: Alma Eikerman will be remembered for the many facets of her life: inspirational teacher, artist, designer, craftsperson, silversmith, jeweler, musician, bibliophile, scholar, researcher, patron, collector, traveler, student, mentor, friend...
Eikerman's accomplishments in support of the field of metal-smithing are legendary. And today her legacy continues in the work of her students, in whom she imbued her passion for living a creative life. Her teaching career at Indiana University in Bloomington spanned more than three decades and culmi-nated in the designation of Distinguished Professor in 1976. She was the first woman to receive the university's highest academic honor. During her extraordinary career, she influ-enced hundreds of students who came to Indiana from around the world to learn metalsmithing.
Moving from her native Kansas where she studied with painter Charles Martin, her adventurous spirit brought her to New York City in the late 1930s where she earned a master's degree from Columbia University. After spending 1944-1945 in Italy, serving as a volunteer in the Red Cross, Eikerman re-turned to Kansas to teach at Wichita State University. Shortly after taking a teaching position at Indiana University in 1947, she won a Handy and Harman Silversmithing Award for study at the Rhode Island School of Design under Baron Eric von Fleming of Sweden. This experience was the impetus for her to travel to Kolding, Denmark, to study with master silver-smith Karl Gustav Hansen in 1950, and then to Stockholm formore study with von Fleming. She quickly translated the tra-ditional Scandinavian silversmithing processes into a new technical vocabulary for experimental holloware forms in sil-ver and other metals.
Her creative work and teaching were firmly grounded in a broad knowledge of contemporary art and historical metal-working. Her scholarly and artistic interests took her around the world to study museum collections (she was especially in-trigued by Celtic art) and to work with master craftsmen and artists, from Zadkin in Paris to Pomodoro in Milan, and on to Russia, India, Iran, Japan, Korea, and Mexico. A tenacious stu-dent of the field, she extended this interest to all aspects of her daily life. The house which she designed and built as yet an-other sculptural object was lined with books, a scarlet carpet, and housed her life's collection of fine contemporary art and crafts.
Alma Eikerman will long be remembered for her contributions to the post-war crafts movement, as a mentor for numerous young women and men who subsequently became metal-smiths and teachers, and for her own experimental work with metal. Hers was a remarkable life, generously lived.
Laura Zimmermann Krentz, 6/24/2011: Alma Eikerman was my silversmithing professor at Indiana University. She was one of the most generous, inspiring professors I have ever had the pleasure to know. She was funny, thoughtful, and always gave criticism in a positive way that did not "crush your spirit."
Robert R. Bower
Joliet, Illinois
Place of birth: unknown
August 3, 1902 - March 12, 1993
Summer 1992 issue of American Silversmith: Robert Bower is our oldest Artisan member at 89. Here he reminisces about his years at The Kalo Shop where he was employed for 49 years: In 1914, I lived across the street from the Doughty home in Joliet, Illinois. I cut their grass and hauled in hard coal for three stoves. Their daughter Ann graduated from Illinois University in graphic arts and was employed at The Kalo Shop in Chicago as a designer and goldsmith. After Miss Doughty worked a few years at the bench and in the store, Kalo founder Clara Barck Wells wanted someone to run the retail store so she could spend more time at the workshop and travel. Mr. Hines and Miss Doughty took the responsibility of running the store at 416 S. Michigan Ave.
Miss Doughty maintained a workbench at home where I took lessons in the winter making pins and belt buckles. On February 28th, 1921, Miss Doughty asked me to try my skills at The Kalo Shop. I started making napkin bands and baby cups under shopmaster Peter L. Berg. It was not easy communicating, as all the men were from the Scandinavian countries and conversed in their native tongue. In 1923, Miss Doughty moved to New York and opened a shop on 57th Street.
In 1925, a very good friend and I drove to Manhattan in a model "T" Ford roadster with HARD rubber tires. We stopped at Niagra Falls and Albany, New York before arriving on 57th St. in Manhattan to see Miss Doughty who showed us the city. On the way home we stopped in Washington, DC and took a plane ride over Arlington National Cemetery. Upon landing, I commented to the pilot on how noisy his plane was. He said: "yes I know, this was the last trip before repairs."
The owner of the Fine Arts Building doubled the rent of The Kalo Shop this year, just as Mrs. Wells finished remodeling a building at 152 E. Ontario Street where she lived. This was to be the new home of store and workshop.
Mrs. Wells did a lot of traveling to England, France, Spain and Italy to purchase ceramics, antique altar cloths, etc. to sell at the store. During our ten years on Ontario Street and with Mrs. Wells being away on buying trips, I received good experience running the business.
We had an arrangement with a sales organization to sell a wholesale line consisting of 40 items of all new Kalo sterling designs that were handwrought and of substantial weight. It was called the Norse line. All the samples were ready to go, then the market crashed in 1929. That was the end of the wholesale business.
On July lst, 1936, we were back on the avenue at 222 S. Michigan. Mrs. Wells moved to San Diego in 1939 and I ran the shop for the next 30 years.
When the decision was made to close the shop, we had many people who wanted to buy us out at half price plus a big discount, but I told them we had things under control. Without a notice in the paper or a sale sign in the window, we sold every item at full price in six months. The doors closed for good on July 31 st, 1970. Why did we close? We ran out of silversmiths. In the last year we lost our three top silversmiths; men who could not be replaced. It was difficult trying to find men willing to learn silversmithing and it took years to train them.
We still had three silversmiths including Walter Kichura who started with Kalo as an apprentice in 1936. That was not enough men to run the shop.
I was thankful that the Kalo Shop's closing was not a financial failure. We had good customers and good sales to the end, but no production.