3M Radial Bristle Discs
Abrasive Sheet, Discs, and Belts
Acid Neutralizer/Abrasive (Non-Toxic, All-Natural)
Buffing Compounds (Less-Toxic)
Castings (Pewter)
Castings (Precious Metals, Brass & Bronze)
Contact Cement (Non-Toxic, Non-Flammable)
Degreaser (Non-Toxic, All-Natural)
Dresser Brushes
Dust Collectors
Firescale/Firestain Preventive (Less-Toxic)
Fluxes (Less-Toxic, Chloride-Free)
Lacquer Stripper (Less-Toxic)
Lubricant (Non-Toxic, All-Natural)
Hydrochloric Acid (Safer)
Pickle (Less-Toxic)
Respirators (Half-Face)
Rust Problems
Spinning
• Manufacturer Safety Data Sheets (MSDS)
Small-but-sturdy "bristle discs" are new abrasive products from 3M. 3M radial bristle discs, in 1-inch diameter, stacked together on a mandrel using a 1/8-inch screw, can tackle tough metal deburring, cleaning, and finishing requirements in the hardest-to-reach places.
Radial bristle discs are designed with abrasive-filled bristles that apply a continuous fresh supply of mineral – without damaging the underlying surfaces. Tough but flexible, these discs conform to the contours of the work piece where intricate designs, tubes or corners make finishing, cleaning and deburring difficult.
They're also safe for the user, as they eliminate the dangers of flying metal wires posed by wire brushes and also can replace chemical use in some applications. In addition, their unique, patented design resists gumming and loading, so bristle discs work fast on soft or hard metals to produce a consistent, uniform finish. One-inch 3M radial bristle discs are suitable replacements for hand files, wire brushes, hand scrapers, and traditional grinding discs used for sanding, surface preparation, and coatings removal.
The one-inch 3M radial bristle discs are available in four grades: 36, 50, 80, and 120. Additional members of the small 3M radial bristle disc family include a 9/16-inch, as well as 3/4-inch size. These smaller discs fit mandrels with a 1/16-inch screw and are available in finer grades (120, 220, 400, 6 micron and 1 micron) and pumice for finishing and polishing applications. The 3/4-inch size also comes in grade 80. All grades are color-coded for easy identification.
Larger sizes up to 4.5" are also available. You may find that Scotch-Brite wheels can accomplish the same tasks when using abrasives of these larger diameters.
These discs are worth a try. Most jewelry supply companies now carry a wide array of sizes and grits. Though their lifespan is shorter than traditional bristle wheels, they certainly have many applications including surface preparation for soldering and brazing without the need to remove buffing compounds. They are also excellent for removing corrosion.
Best deal on the internet: Santa Fe Jewelers Supply
Abrasive Sheets, Discs, and Belts
3M's Trizact is a relatively new abrasive made for all metals. It lasts many times longer than all other abrasives other than diamond. The products are useful all the way down to the backing material. Here's the Trizact abrasive chart. R.S Hughes is a great company to purchase Trizact and other 3M products in smaller quantities.

Acid Neutralizer/Abrasive (Non-Toxic, All-Natural)
Baking Soda
Less irritating than household cleansers, can be used with the scratch brush,
and to neutralize pickle.
Hardware stores, supermarkets, drug stores
Buffing Compounds (Less-Toxic)
Finishing: C–3568 Alumina Compound
Use on non-ferrous metals and plastics—color is not as dark as red rouge, but safer.
Cut-Down: 303 Alumina Compound
Cuts like bobbing compound, but is much drier.
JacksonLea, 1705 Conover Boulevard East, Conover, NC 28613, 800/438-6880, Jewelry supply houses
TWL Company
Beautiful quality castings ready for finishing with minimal shrinkage. Outstanding customer service from this family-owned company.
TWL, Vermont Ave., Warwick, RI 02888, 401/738-4627
Castings (Precious Metals, Brass & Bronze)
RaceCar Jewelry Co.
I've been dealing with Dan Grandi at RaceCar for years. He's a detail man who has the same eye for perfection that I have. Among other objects, he produces complicated clasps for me that were frustrating for other high-end companies I dealt with (the number of rejects was astounding). His company does everything well, and he'll tell you upfront if there are going to be problems casting your piece. Dan and his staff are patient, courteous, and professional. If you're dissatisfied with your current caster, save yourself valuable time by calling Dan Grandi at Racecar. Complete finishing services on-site.
RaceCar Jewelry Co., PO Box 10327, Cranston, RI 02910, 401/461-7803, Web site
Contact Cement (Non-Toxic, Non-Flammable)
Elmer's Saf-T Contact Cement
Water-based and very effective.
Borden, Inc., Columbus, OH 43215, hardware stores
Dr. Bronner's Peppermint Pure Castile Soap
6 tbs. in a 6-quart crock pot—used warm to hot with a Tampico brush (this brush will not scratch when wet). Bronner's has a nice minty smell.
Dr. Bronner's, Inc., Escondido, CA 92033, health food stores
Woonsocket Brush Co.
Handmaking hair brushes for silver restorers, Woonsocket was the major supplier to the silver companies producing every conceivable brush in their product lines. This is the only company left in America producing custom dresser brushes.
Woonsocket Brush Co., 167 Mad River Canoe Rd., PO Box 1330, Waitsfield, VT 05673, 802/496-7131, Fax: 802/496-9161
Billrich Industries, Inc.
Billrich is an authorized distributor of the entire Handler Manufacturing line of processing equipment for the metalsmith. They carry a full line of dust collection equipment (from single work station to multi-position 3 and 5 HP units), grinders & polishing lathes, bench top polishing units, larger floor model polishing units, jewelers' hoods, hand pieces, flexible shaft motors and lappers, and much more. Visit our Web site to see Handler's complete line of products.
Billrich Industries, Inc., PO Box 201, Fanwood, NJ 07023, 908/233-7796, Fax: 908/233-7340
Firescale/Firestain Preventive (Less-Toxic)
Dr. Frank's Fabulous Flux
Contains boric acid—sprayed on warmed objects, removed with warm water, compatible with Superior #6 Brazing Flux. Active to approximately 1,800 degrees, it protects against firescale (which appears black and forms on the metal's surface as cupric oxide) and firestain (which appears purple and develops deeper in the metal as cuprous oxide).
Paul H. Gesswein & Co., PO Box 3998, Bridegport, CT 06605, 800/243-4466
Fluxes (Less-Toxic, Chloride-Free)
Liquid Super-Safe Soft Soldering Flux
Used with solders that melt up to 450° F—organic.
Gel Super-Safe Soft Soldering Flux
Used with lo-flow solders—organic.
Superior #6 Brazing Flux
Active to 1,600° F—organic, removed with warm water, compatible with Dr. Frank's Fabulous Flux.
Distributor for Superior Flux: H & N Electronics, 10937 Rome Beauty Dr., California City, CA 93505, 760/373-8033
Smart Strip
Dumond Smart Strip, a 100% biodegradable, water-based paint stripper with no V.O.Cs. This gel-type stripper adheres to the surface on which it's applied. Dumond, 104 Interchange Plaza #202, Monroe Township, NJ 08831, 800/245-1191, hardware stores
Lubricant (Non-Toxic, All-Natural)
Mineral Oil
Use this for drilling, machining, and as a wood preservative, especially cutting boards.
Hardware stores, super markets, drug stores
Acid Magic
This product does a great job removing rust from tools and lead from silver. Significantly reduces toxic and corrosive fumes; will not burn intact skin; equally active upon oxides of metal when compared with standard muriatic acid; with reduced fuming, there is less corrosion to metal structures – including storage areas, pool equipment, and filtration systems; by reducing the risk of acid burns and toxic fumes, it allows for safer handling, transportation and storage.
Uses:
Excellent pH down and alkalinity adjuster; extremely effective acid wash; cleans tile and porcelain; cleans brick and concrete; removes rust, scale, mineral build-up, and stains; cleans filters, chlorine generators and meter electrodes; cleans barnacles, zebra mussels and scum line from boat hulls; paint preparation etch for metal and concrete surfaces; cleans vats/tanks, lines in food and beverage plants; use for acid baths/washes. Certol International, 6120 E. 58th Ave., Commerce City, CO, 800/843-3343, hardware stores
Citric Acid
Slowly add 1 cup per 10 quarts of water. I use the mixture cold. If used warm in a crock pot, ventilation is advised. Neutralized with baking soda. Remember, this is an acid!
Preferable: Reconstituted Lemon Juice (use full-strength).
BulkFoods.com, 3040 Hill Ave., Toledo, OH 43607-2931, 888/285-5266
Chemical Respirator: 3M's #60926 Cartridges (updated 3/3/2009)
Protects against fluorides, chlorides, gases, ammonia.
Toxic Dust Respirator: 3M's #2097 Cartridges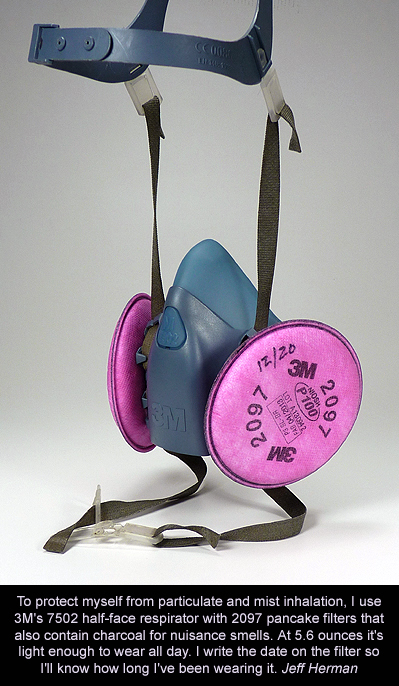 Are you protecting yourself when you grind, buff, and everything in between? Not only should you be using a heavy-duty ventilating system, you should also wear a 3M Easy-Air high efficiency respirator. The respirator below is a 3M 7502 (medium size) half-face respirator (about $23), with 2097 pancake filters (about $6 per pair). The entire unit weighs only 5.6 ounces, so it can be worn all day (and night!). The filters will protect against welding fumes, dusts, mists, and asbestos. There is also an encased charcoal filter that will protect against nuisance smells. This respirator is most effective if you are clean shaven. Regardless of how powerful your ventilation system is, when buffing the inside of a form dust will become trapped and circulate out and away from the mouth of the vent, hence the need for the respirator. Don't bother with nuisance or dust masks, they simply aren't as efficient.
Always mark your respirator with the date the cartridges were installed. Also, clean the respirator often, especially after a cold or other sickness.
If you need help with finishing, call SAS for experienced advice. For respirator selection, contact 3M Occupational Health & Environmental Safety Division, 3M Center Bldg., 275-6W-01, PO Box 3325, St. Paul, MN 55133, 800/243-4630. Purchase from safety supply companies.
Moisture and steel. Bad combination. On my hammers, I use gun bluing then burnish the surface with 0000 steel wool to give it a shine. The bluing helps keep rust at bay, but to insure that my tools remain pristine, I use, sparingly, Butcher's Wax or Renaissance Wax for the final hard finish. In my rather humid workshop, my tools rarely rust. When they do, it is on the working surfaces that I forgot to recoat. I also wax my surface plates, heads, stakes, band saw and drill press tables, lathe ways, bench pin, mandrels, scratch brush extension spindle, and other assorted steel tools. Before bluing and waxing, I make sure all moisture has been eliminated from the tool by heating it on top of a radiator or with a heat gun. My tools need extra protection, for they are all exposed for quick and easy access. Oil and penetrating fluids tend to attract too much dust and abrasive elements that may be planished into a pristine piece of silver. Though most penetrating fluids do a good job driving moisture away, they can be toxic.
Bob McNee
Spinner of one-of-a-kind & limited production holloware. Steel & wooden chucks. Excellent work with a good turn-around time.
Bob McNee, 380 Tremont St., Taunton, MA 02780,508/822-3051
© Jeffrey Herman